The Paynesville Bulldog football season came to an end with their recent awards banquet. The Dogs ended the season with a record of 6-4 overall and 3-2 in the conference, finishing one game out of first place.

Highlights of the season were scoring 59 points in a big homecoming win over Morris, upsetting #4-ranked Long Prairie-Grey Eagle in the last game of the regular season, and a thrilling, come-from-behind win over Staples-Motley in the first round of the section playoffs.

All Conference awards were announced at the banquet. Paynesvillle had four team members earn All Conference honors and two earn honorable mention. Junior quarterback Chris Fuchs and senior lineman Jon Schefers earned honorable mention honors.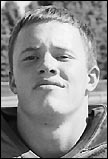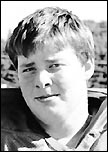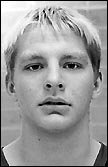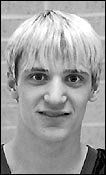 Senior tight end and strong safety Nic Glenz (above left) and senior lineman Jacob Nyffeler (second from left) along with junior halfback and defensive backs Kevin Mehr (second from right) and Milan Virant (above right) were named to the All Conference team.

As a team, the Bulldogs set seven school records for offense and special teams. Senior return specialist Ryan Schneider broke the school record for kickoff return yards for a career with a total of 618 yards. He broke the old record held by Jeff Voss by almost 150 yards.

The Bulldogs also set a record for kickoff return yards in a season with 641 yards.

The Bulldog offense set five school records this year: total offense for a season (3,049 yards); total rushing for a season (2,709 yards); most rushing attempts in a season (519); most plays for a season (582); and total yards for a season (3,942 yards).

At the banquet, the Bulldog coaches thanked all the players, especially the group of 18 seniors for a great year of football. The seniors will be missed next season as the Bulldogs graduate their entire starting offensive line.

The Bulldogs will have a great deal of experience returning in the backfield next season as they will return five backs who totaled over 2,000 yards rushing between them.

Head coach Kyle Nehowig is confident that next year's linemen will work hard in the offseason to improve and hopes this will lead to another winning season for the Bulldog football team.

Season statistics
Rushing (attempts-yards-avg): Milan Virant 171-906-5.3; Kevin Mehr 101-647-6.4; Josh Trees 71-348-4.9; Adam Schaefer 47-312-6.6; Chris Fuchs 80-239-3.0; Josh Kampsen 27-140-5.1; Ryan Glenz 7-54-7.2; Josh Teicher 7-26-3.9; Ryan Schneider 4-18-4.5; Chris Nosbush 4-7-1.8;

Passing (completions-attempts-yards-TDs-INTs): Fuchs 22-53-314-0-6; Kampsen 1-6-26-1-1; Trees 0-2-0-0-1; Mehr 0-2-0;

Receiving (receptions-yards): Nic Glenz 11-144; Steve Mages 4-85; Max Meagher 2-36; Mehr 3-35; Virant 2-26; Ryan Glenz 1-17;

Kickoff returns (attempts-yards-avg): Schneider 15-357-23.8; Jeremy Fuchs 13-242-18.6; Mehr 3-31-10.3; Kampsen 1-8-8.0;

Punt returns (attempts-yards-avg): Schneider 10-160-16.0; Fuchs 7-92-13.1;

Kickoffs (attempts-yards-avg): Kampsen 30-1,624-46.4; Mages 11-499-45.3;

Punts (attempts-yards-avg): Kampsen 30-923-30.8; Mages 11-327-29.9;

Touchdowns Virant 13; Chris Fuchs 8; Trees 4; Mehr 3; Nic Glenz 3; Schaefer 2; Kampsen 1; Schneider 1;

Two-point conversions: Virant 4; Fuchs 2; Mehr 1; Nic Glenz 1;

Extra-point kicks: Kampsen 18-22; Jeremy Sogge 0-2;

Total points: Virant 86; Fuchs 52; Kampsen 24; Trees 24; Mehr 20; Glenz 20; Schaefer 12; Schneider 6.
---
Contact the author at paypress@lkdllink.net • Return to Sports
Home | Marketplace | Community
---