The Paynesville girls' basketball team - which opened its 2003-04 season last night with a home game against Kimball - is hoping to improve this year despite the loss of three seniors among its top six varsity players.

The Bulldogs return three starters from last year's 8-13 team: senior post Amanda Glenz and junior guards Kim Hess and Kendra Johnson. The Bulldogs were 4-6 in the West Central Conference North last year.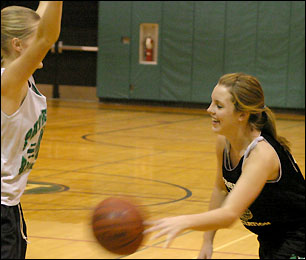 The team - with 26 girls, including three eighth graders - has worked hard over two weeks of preseason practice on fundamental skills and learning a new offensive and defensive system, said new head coach Jackie Parsley, who played for NDSU, winning two national titles, and coached at NDSU and at Cromwell before coming to PAHS this year, where she teaches business classes.
Bridgette Johnson, right, is one of four seniors on the girls' basketball team this year. The Dogs opened their season last night against Kimball
The varsity team's strengths this year will be quickness and having Glenz inside, said Parsley. Glenz, who earned All Conference honors last year, as well as honorable mention All State, averaged 18.1 points, 10 rebounds, and 3.1 blocks per game as a junior.
"We'll be looking for Amanda, but we need other people to step up, too," said Parsley. "We need other people to be involved."
Hess earned honorable mention honors in the conference last year. She averaged 7.9 points per game and led the team with 24 three-pointers, 50 steals, and 91 assists.
One of the team's goals this year is to improve their shooting percentage, aiming to top 40 percent as a team. They also hope to get 10 steals per game and have 10 assists per game.
Parsley plans to use the team's quickness to full-court press this year, hoping to get some easy layups, and also to use the team's height by playing zone defense.
The team played at a scrimmage in Sauk Centre on Saturday, Nov. 22, and Parsley reported that the team held its own against Hawley, Osakis, Litchfield, and Royalton.
Also returning to the varsity this year are senior post Bridgette Johnson, senior wing Cahlean Klenke, and senior guard Peggy Thompson. Other juniors on the team are wing Brittany Lieser, guard Kayla Mackedanz, post Sam Moser, and post Rachael Wendlandt. Sophomores Ashley Lieser, Lynn Lieser, and Brooke Schmitz are also expected to get varsity playing time.
The Dogs face a tough schedule for their 2003-04 campaign, with Albany and Cathedral being powers in the conference. The Dogs will also play tough nonconference foes in Annandale, Eden Valley-Watkins, and New London-Spicer.
Parsley hopes the team will rise to the challenge of the schedule. "With the girls' work ethic, I think we can compete with them," she said.
Along with Parsley, the girls have a new junior varsity coach this year in Keri Hatlevig, a new health and physical education teacher at PAHS. Laurie Nepsund returns as the ninth grade coach.
The Dogs will open their season with three home games this week. They played Kimball in their opener on Tuesday. They will host Annandale on Thursday and LPGE on Friday.
They will play their first away game at BBE on Tuesday, Dec. 9.
---
Contact the author at editor@paynesvillepress.com • Return to Sports
Home | Marketplace | Community
---