State-ranked wrestlers drop into smaller class
This article submitted by Michael Jacobson on 12/1/99.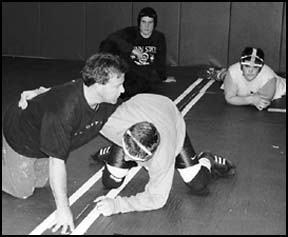 Another campaign is starting for the Paynesville Bulldog wrestling team, and once again a trip to the state tournament in March is a goal on the distant horizon.

The Bulldogs, who took fourth place in the Class AA tournament last year, lost only two seniors to graduation and dropped into the smallest wrestling class. In Class A, the Bulldogs could face old adversaries like Canby, Goodhue, and Frazee, the defending Class A champion and the top rated team entering the 1999-2000 season.

Pictured ar left: Assistant coach Steve Fuchs demonstrates a wrestling move with Chris Sogge. Watching in the background are Shaun Fleischhacker and Matt Brauchler.

Paynesville starts the season ranked second byThe Guillotine, a statewide wrestling newspaper. Bulldogs' coach Virg Vagle was quick to point out that those rankings are based initially on the team's success from the previous year.

While the Bulldogs return eight seniors and two state place winners, their lineup is not set. "It's a lot easier to fit people into a football or baseball lineup than it is in a wrestling lineup," said Vagle.

In a switch, Vagle said the shortage this year is at the lighter weights (103 and 112), with a number of older wrestlers vying for places in the upper weights.

Individually, the Bulldogs have three wrestlers rated in the top eight in their weight classes byThe Guillotine. Senior Chris Sogge, who placed third last year at 152 in Class AA, is ranked second at 160. Senior Chris Welle, sixth at 140, is ranked fourth at 145, and junior David Kerzman, fourth in 1998, is ranked second at 130. Both Welle and Kerzman should reach 100 wins for their careers this season.

In addition, the Bulldogs have another four wrestlers who had 20 or more victories last year: sophomore Jeremy Sogge (31), junior Joe Hiltner (27), sophomore Nathan Glenz (26), and senior Josh Bork (21).

The team has 30 wrestlers out this winter in grades 9-12. Eight are seniors, including Matt Brauchler, Shaun Fleischhacker, Scott Braun, Jim Mehr, and Brad Schultz. "We're going to count heavily on our seniors this year," said Vagle.

The Bulldogs toughest competition in their section is expected to be Pierz, an entrant in last year's Class A tournament. Pierz is ranked fifth in the state, and returns a state runner-up and two third-place finishers. While the Bulldogs' new section may not be as deep as the former one in Class AA, Vagle said Pierz is as good as any opponent in their old section.

The Bulldogs will start their traditionally murderous regular season schedule on Saturday at the Foley Invitational. This year's tournament features six teams: Paynesville, Foley, Little Falls, Hibbing, Coon Rapids, and Becker.

Varsity teams will wrestle against two opponents in a round robin format with matches at 10 a.m., 12 noon, and 2 p.m. Each team will sit out one match. All teams will wrestle in the championship round at 4:30 p.m.

The B-squad wrestlers will compete in an individual tournament on two other mats throughout the morning.
---