Bulldogs hope for a successful season
This article submitted by Tanya Lieser on 12/1/99.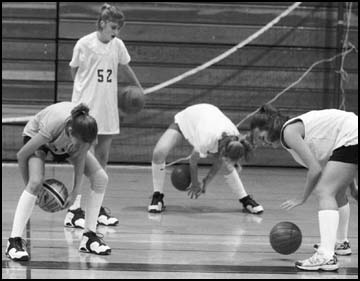 The 1999-2000 girls' basketball season is getting under way, and the Bulldogs are ready for it. They hope to improve on their record from last season: 5-7 in the West Central Conference North and 9-14 overall.

The Bulldogs have four experienced seniors returning this year: Carin Frenchick, Carrie Hemmesch, Tiff Rausch, and Tanya Lieser. Also returning is junior Steph Krupke.

Other players that will see varsity playing time this year are Stacy Lieser, Crystal Humbert, Amanda Olmscheid, Mel Veldkamp, Katrina Orbeck, and Gini Lahr. Paynesville only lost one senior to graduation last year, Amber Michaelis, who is currently playing basketball collegiately at the University of Minnesota-Crookston.

The current coaches all got moved up a squad from last year. The varsity squad is under the new direction of coach Pat Deegan, who coached the junior varsity last year.

"A lot of coaches wait to coach at the varsity level. I thought it would be a good opportunity for me," Deegan said. He expects a lot from the girls and makes them work hard, hoping their hard work will pay off.

Dave Randgaard, last year's ninth grade coach, moved up a step and is now coaching the junior varsity. Laurie Nepsund, who coached the eighth grade last year, is the new ninth grade coach.

On the floor, Tanya Lieser, a four-year varsity starter for the Bulldogs, averaged 14.6 ppg, 8.9 rpg, and 4 bpg last season. She received All-Conference and All-Area honors. She also broke the school record for most blocked shots in a season with 94.

Carin Frenchick is starting her second year on varsity. She averaged 8.8 ppg and 7 rpg last season. She was an honorable mention selection to the All Conference team last year.

Carrie Hemmesch, who has had a lot of varsity experience, should be a team leader this year. According to Deegan, she is a smart all-around player.

Tiff Rausch has also accumulated a lot of minutes on varsity. "Her quick feet allow her to play great defense," said Deegan.

Steph Krupke will resume her job at point guard, as she dished out 5 apg last season. "Her quickness and ability to penetrate will be a great factor in our success," said Coach Deegan.

With the girls' experience and quickness, they should have a productive season. Deegan's goal is to see the girls win at least 15 games this season.

Their first game was last night against the Kimball Cubs. Next Tuesday, Dec. 7, they will host Belgrade-Brooten-Elrosa, with the ninth grade and junior varsity starting at 6:15 p.m. and the varsity at about 7:30 p.m.
---