John Gottwald hates driving, until he gets behind the wheel of his racecar. Driving to work in St. Cloud is a chore, but racing around an oval track is his favorite hobby.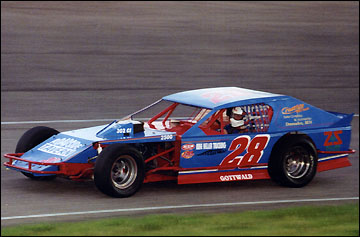 Gottwald, a 1997 PHS grad, got his interest in racing from his uncles. He started racing six years ago, at 19, and this year he finished ninth in the season standings in the modified class at the I-94 Raceway in Sauk Centre. It was his first year racing in this more competitive class.
John Gottwald of Paynesville placed ninth in the season standings in the modified class at the I-94 Raceway in Sauk Centre this summer, his first year of racing in that class.
Modifieds are second-best class at the I-94 Raceway, according to Gottwald, with the late models being the top class. He races in a B-modified class, which limits the modifications allowed to the cars and means they are pretty close to stock. Basically, the car has its original parts, but its running has been finetuned. His car has a 1983 Chevy Malibu chassis and the V-8, 350-horsepower engine from a 1970 Cougar Mercury.
Gottwald - who works as a mechanic in St. Cloud and lives on Co. Rd. 34 with his wife Sheila and baby daughter - bought his uncle's modified car last year with his partner, a friend from work. They had to reverse some of its modifications since his uncle used to run in an A-modified class. Without a partner, Gottwald said, he couldn't afford to compete in the modfied class. The engine alone cost $5,700.
Gottwald got his start with a U-car - which means "U can afford racing." While Gottwald built his U-car, a front-wheel-drive Ford Taurus, modified racing cars, to be competitive, need to be professionally constructed. "There ain't no way you can build this in the garage and compete anymore," he said. "You'd have to be a smart sucker."
He totaled his U-car in his very first race, when he "smoked the wall." "Somebody didn't like it that I sort of rubbed them a bit, so they rammed me," he explained.
He walked away from that first crash, though, and now thinks of it as a learning experience. "That's still my worst wreck. I've never been hit that hard again. I had four wheels off the ground. It was a mess," he said.
Saturday night racing is only the beginning of the time commitment for his racing hobby.
Normally, Gottwald and his partner spend a couple nights a week repairing the car and getting it ready for the next night of racing. High-tolerance racing engines "love to leak," said Gottwald. And if the car suffered more major damage, though, they might have to spend three or four nights working on it. His uncle also helps him with his racecar. (And his brother Luke also used to race.)
Gottwald, who said he always has been a "wrenchhead," made 19 starts in 2004 in the modified class. (He missed a couple races due to the birth of his daughter and another because of engine problems.)
He was pleased to finish ninth in his class in his first year. He called it his "best year yet."
His best finishes in 2004 were two seconds, including one in a race that he led until five laps to go.
Races on Saturday night start with qualifying (usually two laps), then heat races (usually eight laps), and finally the feature race (usually 25 laps). With the other classes, that can take from 6 p.m. to 12 midnight.
Racing is always a rush for Gottwald. "The butterflies are there alright," he said. "You're always nervous. If it's nervousness or excitement, you just don't know."
While it may seem that raw horsepower makes a racecar, the car's handling is more important, said Gottwald. A better-handling car is going to better maintain its speed in turns, it's going to get into and out of turns faster, and it's going to have less wear on its tires. "You can't beat a car that handles," said Gottwald.
Since the I-94 Raceway is an oval asphalt track, tire strategy is key to handling and to successful racing. Each car starts the season with six tires. Each car gets one new tire each night it races. Since maintaining tire tread is key to handling, successful drivers minimize wear on their tires: by avoiding spinning, minimizing braking, and understanding how the tires will handle differently when they are cool and when they get hot.
The question that everybody asks Gottwald about his racing is: How fast do you go? And he has no idea. His car doesn't have a speedometer, only a tachometer to monitor the engine's RPMs.
But a good lap on the 3/8-mile oval track takes him 17 seconds, which equates to an average speed of 80 miles per hour. Cars obviously reach higher speeds on the straightaways but slow for the turns.
Gottwald hopes to get his first win next year and may upgrade his car. "The car is good, it turns good, but it's got no bite," he said.
He hopes to keep racing "as long as I can, I guess," he said.
---
Contact the author at editor@paynesvillepress.com • Return to Sports
Home | Marketplace | Community
---