Seniors Ashley Lieser and Lynn Lieser earned All Conference honors in volleyball in the West Central Conference North this fall.

Their awards, along with senior Melanie Mages being named honorable mention, were announced at the fall athletic banquet on Sunday, Nov. 20.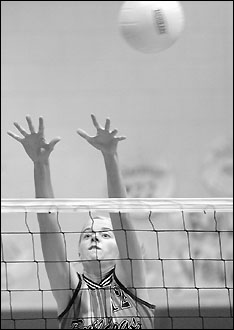 The Dogs finished 10-12-1 in volleyball this fall, including 6-8 in the West Central Conference North, finishing fifth out of eight teams.
Senior Lynn Lieser led the Dogs with 50 blocks, in serving percentage (96.2), and in digs (248). She was second with 141 kills and earned All Conference honors.
Setter Ashley Lieser, a two-year starter, led the team with 447 assists, with 300 good serves, and with 30 ace serves. She was third on the team in service percentage (95.2 percent) and in digs (173).
Middle hitter Lynn Lieser, a three-year starter, led the team in blocks (50), in service percentage (96.2 percent), and in digs (248). She was second on the team in kills (141) and in good serves (253) and was third in ace serves (20). She earned honorable mention honors last year for the Dogs in the WCC North.
Mages, a first-year starter at outside hitter, led the Dogs in kills (151) and was second in digs (239) and was fourth in blocks (25).
The Dogs also gave team awards at the banquet. Ashley Lieser got the Will to Win Award. Senior Amanda Skalicky got the Hard Hat Award. And sophomore Kayla Lieser got the Rookie of the Year Award. Kayla Lieser and Skalicky split time as libero (defensive specialist) and as back-row specialists this fall and were fourth (146) and fifth (144) respectively in digs for the Dogs. Kayla Lieser also was second in serving percentage (95.4 percent).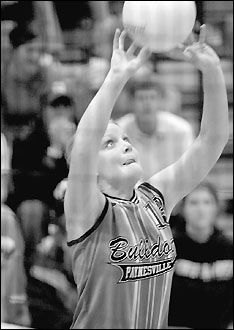 Eleven players lettered in volleyball this fall: seniors Ashley Lieser, Lynn Lieser, Mel Mages, Shonda Martinson, Kayla Nelson, Kristin Nietfeld, and Amanda Skalicky; juniors Chelsey Kalkbrenner, Kristin Lang, and Amanda Lieser; and sophomore Kayla Lieser.
Senior setter Ashley Lieser led the Dogs in setting (447) and ace serves (30) this fall and earned All Conference honors in the West Central Conference North.
Senior statistician Allyson Klenke also received special recognition at the banquet.
Individual Statistics Kills: Melanie Mages 151; Lynn Lieser 141; Shonda Martinson 115; Chelsey Kalkbrenner 72; Kristin Lang 65; Laura Schaefer 26; Ashley Lieser 9; Amanda Skalicky 4; Kristin Nietfeld 2;
Serving: Ashley Lieser 300/315 - 30A; Lynn Lieser 253/263 - 20A; Lang 196/213 - 23A; Mages 151/161 - 11A; Kalkbrenner 120/133 - 11A; Amanda Skalicky 107/122 - 13A; Martinson 87/98 - 5A; Amanda Lieser 60/68 - 9A; Kayla Lieser 42/44 - 2A; Schaefer 32/37 - 6A; Kristin Nietfeld 17/18 - 2A; Kayla Nelson 10/15 - 1A;
Blocks: Lynn Lieser 50; Lang 43; Martinson 27; Mages 25; Kalkbrenner 17; Ashley Lieser 11; Schaefer 4;
Assists: Ashley Lieser 447; Kalkbrenner 19; Skalicky 6; Lynn Lieser 5; Kayla Lieser 4; Mages 3; Schaefer 2; Lang 1; Amanda Lieser 1; Nelson 1; Nietfeld 1;
Digs: Lynn Lieser 248; Mages 239; Ashley Lieser 173; Kayla Lieser 146; Skalicky 144; Kalkbrenner 137; Schaefer 74; Lang 65; Amanda Lieser 55; Martinson 51; Nietfeld 19; Nelson 16.
---
Contact the author at editor@paynesvillepress.com • Return to News Menu
Home | Marketplace | Community
---