The Japanese word "dojo," which refers to a formal training hall for martial arts, translates as "place of the way." The way in karate, said Erica Geurts - who received her second-degree black belt in September - is one of mutual respect and "helping others through the ranks."

"Someday, I hope to open up my own dojo school and start teaching," she added.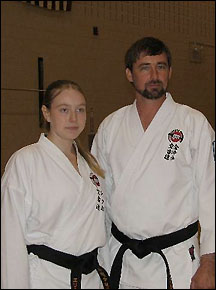 Geurts, a senior at PAHS who is a post-secondary-option student, began taking karate lessons nearly seven years ago. She earned her first-degree black belt in Shotokan karate in June 2004. Her second-degree black belt or "nidan" was achieved in Shorin-ryu karate.
A passion for the martial arts began with a well known movie, The Next Karate Kid (1994) starring Pat Morita and Hilary Swank. She said, "You've all heard of the karate kid movies. I watched it and went, 'I want to do that!'"
Erica Geurts of Paynesville - with her sensei Loren Engelby - earned her second degree black belt in karate this fall.
Since fifth grade, she has been taking lessons in Atwater, learning techniques in block kicks, kata, partner drills, punching, and sparring. "We do a lot of self-defense, like wrist locks and get-aways," she said. "It's a very traditional, self-defense based style."
The Japanese word "kata" translates as "form" and describes choreographed movement performed in training. "Katas aren't designed to be used in real situations, but the individual moves in the kata have a lot of practical application," Geurts explained.
A highlight for Geurts was getting to meet and work with famed Okinawan grand master Fusei Kise at a three-day camp held in New London in September. "It was really exciting to have the grand master come and work with us," Geurts said. "He's a legend. He's a karate legend." Kise visits the U.S. once a year as a featured guest at the camp, which was held in Minnesota this year.
At camp, which attracted students from across the country, Geurts tested for her nidan. Between the achievement of her shodan and nidan black belts 27 months had passed. "At the beginning, you test three to four months apart," she said of her advancement in karate. "The last step between brown three and black is about a year."
"Testing in traditional Okinawan is very formal. Well, the whole camp process is very formal," said Geurts. She explained that the grand master watched while students were lined up and performed. The testing process lasted two hours, she said.
Geurts said of her parents, Dennis and Coreen Geurts, and their support of her karate, "They're great. They drove me to Atwater twice a week for five years."
Geurts said she has learned other cultural aspects such as the etiquette of bowing and hand shakes, counting in Japanese, and saying "thank you" and "yes" in Japanese.
"Everything in karate is based on respect," she said. "Elders, higher rank, lower rank, handshakes, and bowing; how to interact with people based on rank." She explained that in karate, when one of higher rank shakes hands, both hands are used. When one of lower rank shakes hands, it is customary to place his or her other hand on the inner elbow to show respect. "When you're shaking hands with Master K," she summarized, "your hand is glued to your elbow."
Accepting an award at school for a human rights essay in eighth grade, Geurts bowed to a teacher by accident. "Some of the protocol slips out accidentally," she said with a smile. Geurts said her karate reflexes have been noticeable in other social situations. If a friend were to jokingly hit her, she said that she would likely react with techniques she has learned.
For eight years, Geurts has studied karate at the Glacial Ridge Karate Club in Atwater under her sensei, Loren Engelby. She said her lead teacher or "sensei" - who is the owner and operator of Glacial Ridge Karate Club in Atwater - is a good guy and great teacher. Each summer, Engelby invites protégés to his home for a picnic, and Geurts and the other students have also gone bowling together. "We're like a big, happy family," she said.
Among the students at the club are Terry Johnson and his daughter Halle of Paynesville.
Her raised confidence has been marked by a sense of qualified skills. "You get your black belt and you just know that if a situation ever arises, you can protect yourself," she said, adding that her achieved assurance has allowed her to begin teaching fellow students.
Geurts said of karate, "It's an excellent hobby, an excellent thing to do on the side."
She continued, "It's a lifelong sport. I'll never run out of things to learn. It's something I can continue to do forever. I found karate, and I love karate, so I'm going to do karate."
---
Contact the author at editor@paynesvillepress.com • Return to Sports
Home | Marketplace | Community
---