Bulldogs prepare to defend state title
This article submitted by Michael Jacobson on 11/29/00.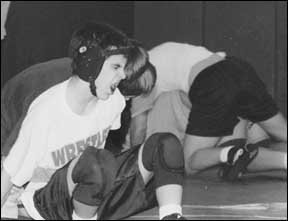 Nearly nine months after winning their fourth state title, the Paynesville Bulldog wrestling team heads back to the mats rated first in the state, having room to improve and much to prove in the eyes of their coach.

The Bulldogs are ranked first in the preseason Class A polls by the Guillotine. "I don't think we're the best team in the state," said coach Virg Vagle, in his 35th season in charge of the Paynesville varsity, "but (the rating) is based on what we did last year."

Twenty-six wrestlers are out for the team, which started practice on Monday, Nov. 20.

Eighth grader Jack Mueller works for a reversal during preseason practice.

The team that hits the mat for the Bulldogs this winter will have a number of different faces from the one that upset Frazee 24-21 to win the Class A team title last March. The Bulldogs lost seven seniors, and six regulars, from their state championship team of a year ago.

The Bulldogs have seven regulars back for this season, including four state entrants and two state placewinners. Senior David Kerzman won the 125-pound weight class in Class A last year, and junior Jeremy Sogge was third at 119.

Senior Joe Hiltner and junior Nathan Glenz also competed individually in the state tournament last year but did not place.

These four Bulldogs are rated individually in the preseason Guillotine ratings: Sogge first at 125, Kerzman second at 130, Hiltner fifth at 152, and Glenz eighth at 119. Kerzman, despite winning a state title a year ago, is rated behind a 1999 state champion who was injured in last year's state tournament.

Other returning regulars for the Bulldogs are sophomore Adam Christian, junior Jeremy Fuchs, and junior Josh Schreifels.

Vagle said last year's team had quality wrestlers in a great quantity: depth and talent. "In other words, we did not have a weak spot in our lineup," he explained.

Vagle said this year's team has some outstanding individuals, but it remains to be seen if the depth will be sufficient for it to challenge Frazee and Bertha-Hewitt/Verndale for another state title. The Bulldogs' lineup will have more sophomores and juniors this year, and only two seniors: Kerzman and Hiltner.

Kerzman starts the season on the cusp of breaking some all-time records for Paynesville. He not only could become the first wrestler to win two state titles; with another 40-win season, he would establish a new career record for victories. Kerzman has a 138-20 record over his first four varsity seasons. Greg Schwartz set the record in 1991 with 157 wins.

For the team, Vagle said not challenging for conference and section titles would be disappointing considering the program's tradition. Vagle stressed that Bulldog wrestling teams aren't automatically good just because they are from Paynesville.

"I think we have potential," he explained, "whether we reach it or not, I don't know."

The strength of this year's team appears to be in the lower weights, where a string of returning wrestlers could run from Christian at 112 to Jeremy Fuchs at 135.

The Bulldogs will be inexperienced at the top and bottom of their lineup with Vagle expecting many wrestlers from last year's junior varsity team to earn varsity spots this winter.

A junior high wrestler is expected to win the roster spot at 103.

Junior Nick Fuchs is the favorite to open the year at 140.

At the heavier spots, Paynesville will have to replace the five seniors who anchored the Bulldogs' lineup from 152 to heavyweight a year ago. Hiltner and Schreifels look to be shuffled around in the 145 and 152 spots.

Junior Max Meagher and sophomore Josh Kerzman, alternates on the state tourney team last March, could rotate with sophomore Ryan Glenz at 160 and 171. Junior Jason Leyendecker is penciled in at 189.

Once again, the Bulldogs will wrestle a very competitive schedule this winter. They open their season at the Foley Tournament on Saturday, Dec. 2. The varsity teams will wrestle a dual-meet tourney, while the junior varsity will have an individual tournament.

The wrestling starts at 10 a.m., though the Bulldogs might not have a team match until noon, depending on how they are seeded. Paynesville will have junior varsity wrestlers starting at 10 a.m.

The championship match for the varsity tournament is scheduled for 4:30 p.m. The conference title could be up for grabs at their first two home meets. The Bulldogs host Litchfield on Thursday, Dec. 7, and Albany on Tuesday, Dec. 12. Vagle considers those two teams as the top conference challengers.

In the section, Vagle expects Pierz to be a top contender again, along with Belgrade-Brooten-Elrosa and Royalton.
---