Gymnasts ready to tumble on new floor
This article submitted by Amanda Mayer on 11/29/00.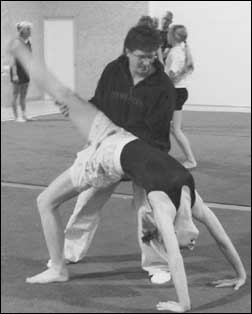 The Paynesville gymnasts are preparing for their 2000-2001 season.

There are 17 girls on the team this year. Returning gymnasts include senior captains Joy Hemmesch and Michelle Wolbeck. Juniors are Amy Mueller, Kelli Fenske, Rachel Koehn, and Christina Hittle.

Amanda Mayer is the only returning sophomore, and Nichcole Utsch is the only ninth grader. Eighth graders include Abby Lindeman, Ashley Karger, Ashley Spanier, and Brittany Stang. The new seventh graders are Kayla Nelson, Tanya Whitcomb, Tara Schmidt, Maggie Frieler, and Jessica Kotten.

Head coach this year is again Deb Nehowig and assistant coaches are Beth Voss and Michael Nistler.

Coach Deb Nehowig spots for Maggie Frieler during a tumbling run.

With a number of varsity performers returning from a year ago, Nehowig said, "We will be calling up some J.V. girls from last year to give them some varsity experience for the fifth spot. So overall the outlook on the season looks promising. I have a lot of seventh and eighth graders who are showing some good potential."

The team is sporting a new spring floor this year. "We have a spring floor this year, which the girls and myself are excited about," said Nehowig. "Our tumbling and dance will improve a lot this year."

"The girls and I would like to thank all the parents and football players who helped us build the spring floor. It was a big undertaking which took many hours to build," Nehowig added. "Your time was greatly appreciated."

Nehowig also thanked the Booster Club for its financial support for the floor and for the team's practice facility. Once again, the team will be practicing and holding its home meets at the gymnasium at the Lake Koronis Assembly Grounds.

The team's first meet is on Thursday, Nov. 29, at Dassel-Cokato.

Their first home meet is on Tuesday, Dec. 5, against Annandale. All home meets this year will take place at the Assembly Grounds.
---