Brainerd beats Stars 9-1
This article submitted by Jenny Habben on 11/29/00.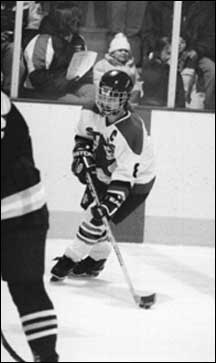 After bus troubles and a half hour wait, the Stars finally made it to their game in Brainerd on Tuesday, November 23. The River Lakes lost 9-1.

The Stars had great positioning in the first period, but Brainerd was too speedy for them. Brainerd scored four times in this period.

Brainerd had nine shots on net in the first 15 minutes while the Stars only had one.

In between periods, the coaches decided to try a new defense because Brainerd was beating the Stars to the puck every time due to their great quickness.

Brainerd still scored three times in the period, including two by Erin Holznagal, who recorded a hat trick in the game and added two assists.

Forty-five seconds into the second period, Anne Bohlman,a junior from Rocori, skated down the ice and made a great shot on Brainerd's goalie. Bohlman scored the first goal of the season for the River Lakes Stars. She was unassisted.

Bohlman said, "I'm really glad we were able to break the zero on the scoreboard."

Senior captain Mary Losinski moves the puck for the Stars.

The Stars had two shots on goal in the second period. Brainerd outshot the Stars with 10.

In the third period, Brainerd was able to score twice. The Stars were only able to get one shot on goal in this period. Brainerd had only six shots on net.

Trisha Wendlandt had another great game as goalie. Wendlandt faced 34 shots in net and made 25 saves.

Coach Tom Petrowski said,"I thought we were fundamentally sound through-out most of the game, but Brainerd had too much team speed for us to be effective."

The Stars were put on the power play advantage three times during this game but were unable to create a scoring opportunity.

Sophomore wing Laurie Barten said, "I think everyone was enjoying themselves on the ice and the communication was up."

The River Lakes are 0-1 in the Central Lakes Conference and 0-3 overall.

The Stars played the St. Cloud Icebreakers yesterday.

The Stars will host a game against Alexandria at the Koronis Civic Arena in Paynesville on Thursday, Nov. 30, at 7:30 p.m.
| | | | | |
| --- | --- | --- | --- | --- |
| River Lakes-- | 0 | 1 | 0 | - 1 |
| Brainerd-- | 4 | 3 | 2 | - 9 |
First Period: Goals (assists): B- Hannah Impola (Samantha Gunning); B- Erin Holznagal (Amy Oaks, Natalie Dunphy); B- Macala Campbell (unassisted); B- Rachel Obeidzinski (Campbell);
Second Period: Goals: RL-Anne Bohlman(unassisted); B- Dunphy (Holznagal); B- Holznagal (unassisted); B- Holznagal (Megan Whalen);
Third Period: Goals: B- Oakes (Holznagal); B- Impola (Megan Owens).
---