Girls hopeful as basketball begins
This article submitted by Sara Lieser on 11/29/00.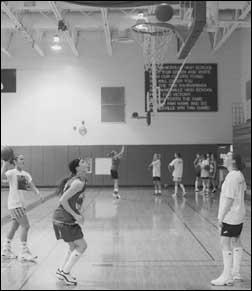 The Paynesville girls' varsity basketball team finished their 1999-2000 season with a 12-12 record. With a new head coach, Ric Koehn, the Dogs would like to improve that record this year.

There are five girls returning from last year's varsity team, including two starters. Senior guard Steph Krupke averaged 11 points per game and 4.4 assists per game last year and earned honorable mention All Conference honors. Junior guard Stacy Lieser averaged 10 points per game and averaged 2.8 assists a year ago.

The Bulldogs four seniors will all captains this year. They are Krupke, Crystal Humbert, Mellody Veldkamp, and Katrina Orbeck.

Mellody Veldkamp coils herself to snare a rebound during practice as Melissa Bachman (left) and Stacy Lieser (right) watch.

Lieser is the only returning junior letterwinner.

Promising newcomers for this year's varsity team are seven juniors: Heidi Jansen, Melissa Bachman, Sara Lieser, Lisa Hemingson, Ashley Wall, Becca Rondeau, and Trisha Loucks.

The varsity team definitely lacks height, but has great quickness. The Bulldogs will be hard to defend this year, as they have great speed, and the team is hard-working.

The girls were also .500 in the West Central Conference North a year ago, finishing with six wins and six losses. This year, the conference should again be well-balanced with defending champion Sauk Centre, St. Cloud Cathedral, and Albany considered slight favorites.

Assistants Dave Randgaard and Laurie Nepsund are both in their second season in their positions as coaches of the junior varsity and C-squad respectively.

The girls played their first game last night in Kimball. They will play tomorrow against Eden Valley-Watkins at the high school in Eden Valley. They also will play at Belgrade-Brooten-Elrosa next Tuesday, Dec. 5.

The girls won't play their first home game until their fifth contest. They will host Long Prairie-Grey Eagle on Thursday, Dec. 14.
---