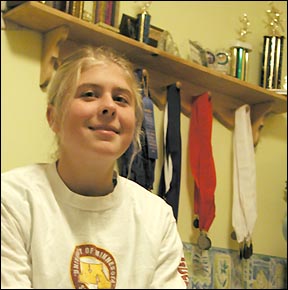 Long before the Gophers started recruiting her, when Jen Hess was just emerging as an elite runner in the state, baseball coach Brad Skoglund, an avid Gopher fan, watched her run laps with his baseball team in the high school halls and predicted: "You'll be a Golden Gopher someday."

Skoglund's prediction proved correct last week when Hess signed a National Letter of Intent to run cross country and track at the University of Minnesota.

PAHS senior Jen Hess signed a National Letter of Intent last week to run cross country and track for the Gophers.

Hess, the daughter of Dave and Barb Hess of Lake Henry, won her second consecutive Class A state cross country title this fall, becoming the 22nd Minnesota runner to win back-to-back state titles. She has nine top three state finishes in cross country and track combined, with a season of track left, and has earned all-state honors 11 times.

She was recruited by the U of M, Michigan State, Duke, Tennessee, Vanderbilt, and a host of Division II schools. The Gopher women finished 25th in the nation in cross country this year.

Next fall, Hess will become the eighth PAHS athlete to compete at the Division I level, according to records compiled by the Press. Originally, Hess planned to take a recruiting visit to Michigan State in December and not sign with a school until next spring, but she changed her mind during the early signing period (Nov. 14-21). "I'll probably decide to go there anyway," she explained of her decision to attend the University of Minnesota, "so why not take care of it now."

She signed the letter of intent on Tuesday, Nov. 20, and sent copies to the University of Minnesota on Wednesday, Nov. 21, right on the deadline day. Between academic and athletic scholarships, she will receive a full ride at the U of M.

Hess liked the U of M's Twin Cities campus when she visited in October, liked the team members, and liked the other recruits. Her parents liked the closeness of the Twin Cities. "That way we can watch her," said Dave.

"I'm very happy," agreed Darrel Carstens, her high school cross country and long-distance running coach in track. "I think (going to Minnesota) will give people a chance to follow her and her career."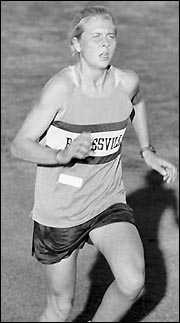 Actually, the Hess family is glad they don't have to change their allegiance to another Big Ten school. "You've already got the clothes," said Jen. "You don't need to buy anything." But her family - Dave, Barb, and sister Kim - is planning on getting more Golden Gopher clothing to wear to Jen's cross country and track meets.
Having signed, Hess will get fewer calls and fewer e-mails from college coaches. She will be able to relax and enjoy her senior year and her final season of track. "Now I don't have to worry about it anymore," she said. "That's kind of nice."
Next year, Hess will run cross country in the fall, indoor track in the winter, and outdoor track in the spring for the Gophers. Basically, she will need to train all year, which she already does.
Carstens said a key to her success at the collegiate level will be her top-notch academic ability, which should allow her to do well at school while maintaining a rigorous training and competition schedule.
Hess will be running longer distances at the Division I level, which should benefit her because her greatest strength is her stamina. In cross country, she will run an extra 2,000 meters (from 4,000 meters in high school to 6,000 meters at college). In track, she will most likely compete in the 5,000- and 10,000-meter runs, rather than the 1,600- and 3,200-meter runs.
"I think Jen will be very successful in college," said Carstens. "She just gets better with distance. I think the long races will be good for her."
Division I Athletes
When Jen Hess suits up for the University of Minnesota next year, she will become the eighth Paynesville graduate to compete at the Division I level. Other Division I athletes, according to records assembled by the Press, are listed below along with their graduation year from PAHS, their university, their sport, and the years of their Division I career. Achievements include Jack Hoppe's playing on an NCAA baseball team champion in 1955, Joe Pung being named the Gophers' football captain in 1964, Pat Neu winning an NCAA wrestling title in 1977, and Brad Fenske setting the all-time victory record at Army.
Athlete - School - Sport - Years
Dave Sauer ('47) - University of Minnesota - Football - 1951-1953
Jack Hoppe ('54) - University of Minnesota - Baseball - 1955
Joe Pung ('61) - University of Minnesota - Football - 1961-64
Pat Neu ('72) - University of Minnesota - Wrestling - 1973-77
Bob Loomis ('80) - West Point - Golf - 1980-82
Tim Haines ('81) - University of Wisconsin - Baseball - 1983-85
Brad Fenske ('92) - West Point - Wrestling - 1994-97
Maria Wegner ('98) - University of Tulsa - Rowing - 1998-00
Jen Hess ('01) - University of Minnesota - Cross country and track - 2002-??
---
Contact the author at paypress@lkdllink.net • Return to Sports
Home | Marketplace | Community
---