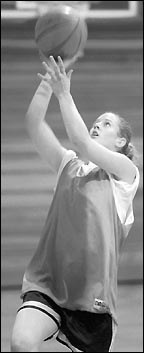 The Bulldogs girls' basketball team started practice for the winter season on Monday, Nov. 12. The girls worked hard for two weeks to prepare for the first game, which they played yesterday against Kimball.

Post Ashley Wall is one of six seniors on the team this winter. The girls were scheduled to open their season on Tuesday, Nov. 27, but due to the weather their first game should be Thursday, Nov. 29, against EV-W.

Seniors Stacy Lieser and Heidi Jansen are two returning starters from last year's varsity team. Lieser earned All Conference honors last year by averaging 11.7 points, 2.6 rebounds, 3.3 assists, and 2.9 steals per game. Jansen averaged 6.6 points and 8.0 rebounds.

Other returning varsity players are seniors Ashley Wall, Lisa Hemingson, Missy Bachman, and Sara Lieser. Lieser did not play last year due to a foot injury.

Also, junior Mindy Meagher is returning after seeing some varsity action as a sophomore.

The varsity team will get lots of help from juniors Ann Stalboerger, Danny Lieser, Hannah Braun, and Rachel Sogge. Sophomore Amanda Glenz will also see some varsity time.

The team will use their depth and quickness to overcome their lack of height this year. They would like to use their depth and quickness to improve their 4-19 record from a year ago. "We have lots of depth and all our players are quick. I think this will help us this season," said Stalboerger.

The coaches behind this year's team are the same as last year with one addition. Beth Voss will be a new assistant coach. She will help head coach Ric Koehn with the varsity. Dave Randgaard will coach the B-squad again and Laurie Nepsund will coach the C-squad.

The Albany Huskies and the Litchfield Dragons will be the teams to beat in the West Central Conference North this year.

The New London-Spicer Wildcats, who were second in state a year ago, will be a tough opponent in the Bulldogs' subsection.

The Dogs played their first game last night against the Kimball Cubs at home. They also play at home tomorrow night against the Eden Valley-Watkins Eagles. They host a third home game next Monday against Belgrade-Brooten-Elrosa.
---
Contact the author at paypress@lkdllink.net • Return to Sports
Home | Marketplace | Community
---