After rolling 11 strikes in a row, needing just one more for a perfect game of 300, the full gravity of the moment hit Dean Schlangen. Having stayed relatively calm through his first ten strikes, he got really anxious on his last two balls.

"In the tenth frame, I knew I had a good shot," he said. "I didn't really get nervous until the tenth frame. The first ball was alright, but I was nervous for the second. The third was a big blur."

As he approached the lanes for the 12th time, he could see the pins only through what seemed like fog. But Schlangen got his 12th strike on Tuesday, Nov. 5, and recorded what is believed to be Paynesville's first perfect bowling game, recording a score of 300.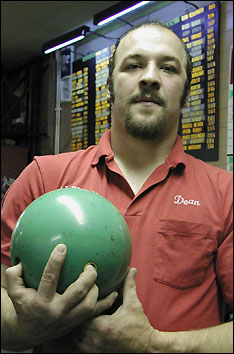 The previous high bowling scores in Paynesville were 299s by Don Weber and Gene Martinson, according to Rick Block, an avid bowler, who has owned the Koronis Lanes for a dozen years.
Schlangen, a 1996 PAHS graduate, who grew up and lives in the country between Roscoe and Paynesville, considers himself a streaky bowler. "It depends on the oil," he said, referring to the oil used to lubricate the lanes. "If the oil isn't just right, I'm off."
Dean Schlangen is believed to be have bowled the first perfect bowling game in Paynesville, rolling 12 strikes in a row to record a 300 game on Tuesday, Nov. 5, putting him atop the scoring list at the Koronis Lanes.
His average was 168 per game before his perfect game and is now up to 174 per game. His previous best game was 268, a game in which he had eight strikes in a row.
Schlangen had bowled 208 in his first game that night and 173 in his second game. His 300 in the third game gave him a series of 681.
"I would have bet $1 million that I never would have a perfect game," said Schlangen. "I knew I could strike, but I never thought I'd get 12 in a row."
Schlangen bowled a little in Roscoe while growing up and joined a league four years ago. Last year, he bowled in leagues three nights a week, and this year he bowls on Tuesday and Thursday nights.
When he got his perfect game, he said that he was helped by his Roadside Tavern teammates - his dad Denis Schlangen, Jerry Utsch, Jim Kirschenman, and Bob Mackedanz, who was subbing for Flip Schmitz - who were also bowling well. "Everybody else was striking, too," he explained. "My dad had five strikes in a row, too. It helps when everyone else is bowling good."
Schlangen's string of strikes started to attract attention of the 30 other bowlers in the league, according to Block. "When someone gets six or seven in a row, (everyone) starts watching. They were pretty excited when he hit it," said Block, who rolled a 297 game two years ago, which was the most recent time that a potential perfect game was taken into the tenth frame at the Koronis Lanes.
"When I bowled that last (strike), I turned around and everybody was yelling, and they came over and gave me high fives," he said.
---
Contact the author at editor@paynesvillepress.com • Return to Sports
Home | Marketplace | Community
---