Over the weekend, nine-year-old Melaina Mrozek took first place out of 60 young gymnasts in a state qualifier for USA Gymnastic's state meet, which will be held in December.

Mrozek, the daughter of Bob and Jennifer Mrozek of Paynesville, already qualified for state in October and is nearing her goal of scoring 35 in the all around this year.

In October, Mrozek placed third out of 56 gymnasts in her Level 5 session at a state qualifier in Columbia Heights, scoring 33.8, including 8.1 on the vault, 8.95 on the uneven bars, 8.8 on the balance beam, and 7.95 on the floor.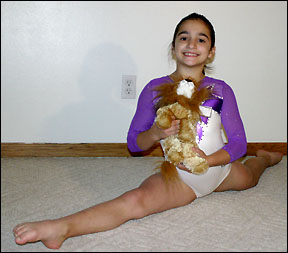 Last weekend, Mrozek finished first out of 60 gymnasts in her session at another state qualifier in Richfield, scoring 34.65, including a 9.0 on the balance beam. (Beam is her best event, with her high score this year being a 9.3.)
Nine-year-old Melaina Mrozek hopes to score 35 in the all around in gymnastics this year and earn more stuffed lions by scoring nines on individual events. She will compete at state in December.
"Melaina has done an outstanding job this year," said Bill Corcoran, her coach at North Crest Gymnastics in St. Cloud. "She has improved drastically on every event and has achieved all-around scores which are consistently above average."
Mrozek got interested in gymnastics after taking a Community Education class in Paynesville taught by varsity gymnastics coach Deb Nehowig and got connected with the North Crest club through Nehowig, too. Mrozek has practiced with North Crest for six years, including one year in dance and five years in gymnastics. She is in her second year in Level 5, compet ing in just a few meets last year before a cracked elbow ended her season.
Three days each week throughout the year, Mrozek practices from 4:30 to 7 p.m. with her gymnastics club. Her younger sister, Katelyn, 7, is on the club developmental team and practices two times per week.
"I like doing flips, and I like competing against other people, and my scores have improved since last year," said Melaina, in describing her love for gymnastics. Her dream is to compete in the Olympics.
Melaina will be competing at the state meet in Roseville over the weekend of Dec. 12-13. Her best chance to place at the state meet, according to Corcoran, is on the beam. "Overall, Melaina is North Crest's best Level 5 gymnast and is the kid we count on when we really need a good score," he said.
In 2004, Melaina expects to move to Level 6. She is currently working on her back walkover on the beam, her baby giants and flyaway dismount on the bars, and her round off, back handspring/back tuck, her front handspring/front walkover, and her ariels on the floor.
Last year, Melaina earned her club's Most Determined award and its Stiff as a Board award, for her robot-like dancing on the floor exercise, she said while laughing.
In addition to gymnastics, Melaina likes to read, to play catch with her older brother Brutger, to have handstand contests and practice gymnastics with her sister, and to play golf with her dad.
---
Contact the author at editor@paynesvillepress.com • Return to Sports
Home | Marketplace | Community
---