River Lakes boys hockey wants to improve record
This article submitted by Kurt Habben on 11/24/98.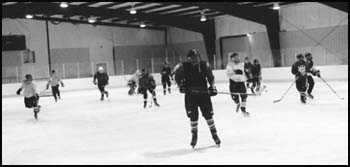 The River Lakes boyís hockey team will look to improve this season upon last yearís mark of 8-7-1.

This year will mark the second season the program has been in existence. The program is a cooperative effort with St. Johnís Prep, Albany, Rocori, Paynesville, and New London/Spicer high schools. New London/Spicer is new to the program this year.

Varsity players returning from Paynesville are: Dustin Looman, Ryan Mackedanz, Kurt Habben, and John Manthei. Eric Hartfiel, Eric Habben, and Adam Hartfiel will also contribute to the varsity team this year. Looman and Jeremy Curran are the captains this year with Kurt Habben as an alternate captain.

Both Kevin Mooney and Joel Baumgarten will return as head coach and assistant coach, respectively.

The team will have to work hard to fill the void left by the nine seniors who graduated last year. Although three of the top four point leaders have returned (Looman, Curran, and Mackedanz), the team will rely heavily upon its younger players this year for offense. Four of the nine forwards will see varsity action for the first time.

The defense will be led by Manthei, who will be playing goalie this year with brand new pads. The pads will ensure that no pain will be inflicted on Manthei, whose less spectacular pads last year left quite a few bruises. Manthei has looked impressive during the first two weeks of practice. In a scrimmage with Sartell, Manthei played awesome, stopping over 50 shots.

According to Looman, the team has looked good so far in practice. But he believes the team must work on their conditioning in order to be able to play against larger schools like Tech or Minneapolis Edison.

Another reason the team will have to be in better shape this season is the longer schedule. The team will play over 22 games this season, compared to 16 last year. The junior varsity team will also play many more games this year.

Coach Mooney has added many elements to the team this year. A player handbook given out this year includes new plays which every player will be responsible to know. The coaching staff has also given out instructions for each player to work on his stickhandling, conditioning, and strength outside of practice.
---