Girls seeking respect on the basketball floor
This article submitted by Cameron Mahlum on 11/24/98.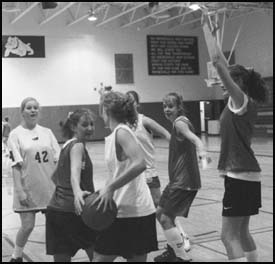 Experience and quickness should lead to a path of improvement. The Lady Bulldogs marched out of the gate last year (5-3), but faltered in the middle of the season. By yearís end, they posted a 6-17 record, and finished sixth in the conference with a 2-10 mark.

This will act as a motivational tool for a very experienced returning team. The Lady Bulldogs will showcase a starting line-up that finished as starters in the last two games of the 1997-1998 campaign.

Amber Michaelis, a senior and four-year starter, is the the third leading returning scorer in the conference with an 11.9 points per game average.

Six foot junior, Tanya Lieser, is the top returner in rebounds (7.4 rpg), and block shots (2.9 bpg). Lieserís two-year varsity experience has surfaced 141 blocks. A top defensive player in the area.

Michaelis and Lieser led the team in every statistical category last year.

Juniors Tiffany Rausch and Carrie Hemmesch bring a great deal of varsity experience. Two other juniors, Carin Frenchick and Cindy Lang were very strong contributors on a B squad that captured 16 victories last year.

A trio of sophomores, Jaime Wuertz, Stephanie Krupke, and Crystal Humbert, will all garner vital roles.

Some of the goals of the girls this season is to finish in the top half of the conference, as well as to gain more wins than losses.

Reloading more starters than anyone in the conference should allow their goals to be met. An attempt will be made to increase the pace of the game with the Lady Bulldogs quickness. They believe this will be a more fun brand of basketball, as well as a recipe for success.

Coach Cameron Mahlum begins his third year at the helm. He is joined by new assistant coaches Patrick Deegan and Dave Randgaard.

The season opened Tuesday night, Nov. 24, at Belgrade-Brooten-Elrosa.

The Lady Bulldogs will host their own tournament starting on Friday night, Nov. 27, at 8 p.m. against Kimball. Saturday nightís game will be determined by the outcome on Friday. Atwater-Cosmos-Grove City or Laq Qui Parle Valley will be the second round contestant.



---