Girls hockey team is 3-0 with two wins this week
This article submitted by Courtney Karsch on 11/24/98.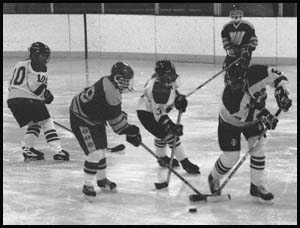 The River Lakes Stars are off to another great start. So far this season, they are undefeated with another two wins against St. Francis (4-1) and Morris (2-0).

The girls played St. Francis on Tuesday, Nov. 17, at St. Francis. This was a nerve-racking game. In the first period, the Stars pulled ahead when Kari Turkowski scored the first goal. But St. Francis was out for revenge, although the Stars werenít going to let that happen.

The second period was really rough when St. Francis scored a goal to tie the game. Of course, the Stars came through as Courtney Karsch scored to end the second period with a 2-1 lead.

Because it was a close game, the Stars were determined not to go home with a loss. Again, Turkowski scored and at the very end of the third period, on an open net, Natalie Rinn scored to end the game with a score of 4-1.

Morris
On Saturday, Nov. 21, the River Lakes Stars played Morris on home ice. The girls were really pumped for this game and knew what they had to do to win.

The first period was a great period for the Stars. They skated hard and really played as a team. The first goal was scored by Rinn which was assisted by Missy Sieben and Turkowski. This really made the Stars get more fired up as they wanted another goal. They skated harder and were really playing their positions. The second goal was scored right in front of the net by Karsch which was assisted by Melissa Jungles. The Stars were excited at the end of this period and knew that they could win.

In the second period, things started to get rough, as hockey can be. The Morris team was wanting the puck more than anything so they could score. With a great goalie, Shari Vogt, there was no stopping the Stars. Turkowski was called with a cross checking penalty and Karsch for a slashing penalty along with two Morris players which were both called with tripping.

The Stars just wanted to play the game, but Morris was getting angry and got called with a roughing penalty. This put the Stars at an advantage but, unfortunately, no goals were scored this period.

The third period was also a great one. The Stars wanted to show Morris what they were really made of. There was another penalty called on Jungles for holding and another Morris player was called for roughing.

The Stars were getting down to the end of the period and tried to prevent Morris from scoring and thatís what they did. They had a great 2-0 victory over Morris. The shots on goal were an even 16-16.
---