Stars split their first two games of the season
This article submitted by Courtney Karsch on 11/24/99.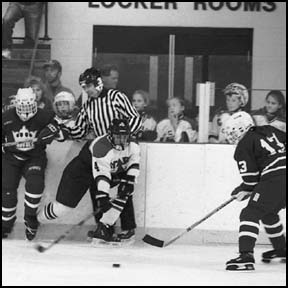 Winter sports are just getting started, but the varsity girls' hockey team is well under way. The River Lake Stars started off their season with a 1-1 record after losing to Fergus Falls and beating Woodbury.

On Tuesday, Nov. 16, the Stars traveled to Fergus Falls for their first game of the season, which they lost 4-1. Both the players and the coaches didn't know what to expect for the first game. "There was some confusion out on the ice regarding positions," said head coach Tom Petrowski.

Paynesville senior Courtney Karsch (4) one of the five River Lakes players from PAHS, tried to steal the puck from a Woodbury player.

The Stars had a hard time getting the puck into the zone to score. Fergus Falls, who eliminated the Stars from the playoffs last year, has a good team. They handled the puck well and had great team skills.

The Stars' only goal was scored by Kari Turkowski, unassisted. "We need to work on responsibilities out on the ice. It was our first game and it was a learning experience," said Petrowski.

Goalie Shari Vogt made 41 saves in net for the Stars.

Statistics were unavailable.

River Lakes 4
Woodbury 0
After the Fergus Falls game, the Stars knew they had to work on breakouts, power plays, and penalty kills. All are important in the game of hockey. It really showed when the Stars defeated Woodbury 4-0 Saturday in Richmond.

Unfortunately for them, Woodbury traveled to the River Lakes Arena Saturday afternoon only to get beat. The first period had no score, but the Stars were playing great. Their positioning was much better, they were communicating on the ice, and they were playing hard as a team.

After the first period, the Stars had more shots on net than Woodbury and they were hungry for a goal.

In the second period, the Stars were ready to score. They weren't going to work that hard for nothing. Then, Turkowski hit in a well-deserved goal on a rebound, right between the goalie's legs. Her goal was assisted by Melissa Jungels and Annie Bohlman.

The Stars scored three more goals in the third period, despite being outshot by Woodbury. Turkowski added two more goals for a hat trick, and Emily Moschkau, an eighth grader, scored the last one.

The Stars goalie, Shari Vogt, did a good job in net. She stopped some really good shots and recorded her first shutout of the season.

The Stars hosted St. Cloud Apollo yesterday and play their next game on Saturday in Alexandria.
| | | | | |
| --- | --- | --- | --- | --- |
| Woodbury-- | 0 | 0 | 0 | - 0 |
| River Lakes-- | 0 | 1 | 3 | - 4 |
First Period:
Goals: none; Penalties: RL- Jenny Habben (tripping), WB- (checking);
Shots on Goal: RL- 7, WB- 4;
Second Period:
Goals (assists): RL- Kari Turkowski (Melissa Jungels, Annie Bohlman); Penalties: RL- Mary Beth Johannes (tripping); WB- (interference);
Shots on Goal: RL- 8, WB- 1;
Third Period:
Goals (assists): RL- Turkowski (unassisted); RL- Turkowski (Missy Sieben); RL- Emily Moschkau (Habben, Courtney Karsch); Penalties: RL- Habben (tripping);
Shots on Goal: RL- 6, WB- 7.
---