Michaelis starts basketball season at UM-Crookston
This article submitted on 11/24/99.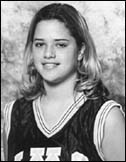 Amber Michaelis is a member of the 1999-2000 University of Minnesota, Crookston (UMC), Golden Eagle women's basketball team. Amber is working toward receiving a degree in equine science from UMC. She is the daughter of Richard and Linda Michaelis of Paynesville.

This is Amber's first year with the Golden Eagles. She is looking to bring her athleticism and her natural basketball ability to contribute to a winning season for the team. UMC will make its first run through the Northern Sun Intercollegiate Conference (NSIC) this year, and look to turn some heads and gain the respect of their new opponents.

Look for Amber to make the first season in the NSIC a memorable one for her and the university. "Amber comes in after having a very successful high school career, and I look for her to contribute as a freshman," said head coach Mike Curfman. With a hard working, winning attitude, look for Amber to fit right in as a Golden Eagle.

The Golden Eagles played their first game of the season last week. They play a 27-game schedule, plus playoffs. In just over a week, they will play at St. Cloud State University on Friday, Dec. 3, at 7 p.m. They will play at the University of Minnesota-Morris on Saturday, Jan. 2, at 5:30 p.m.
---