Athletes put their shooting skills to the test
This article submitted by Linda Stelling on 11/24/99.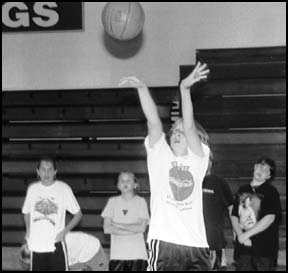 Future basketball stars put their shooting skills to the test on Nov. 16 at the Paynesville Jaycees Super Shot Contest.

Competing were more than 40 athletes in fourth through ninth grade. They had eight different sites on the basketball court to shoot baskets from. Their goal was to see how many points they could accumulate in one minute. Points from each site ranged from one to four points.

The top three boys and girls in each age group advance to the region competition, site to be announced at a later date. The top three at the region competition will advance to the state competition on Feb. 5 at the Aitkin High School.

Those advancing to the region competition are:

Fourth grade: boys, Riley Sampson, Ted Hoffman, Brett Savelkoul; girls, Brittni Schmitz, Carissa Utsch, and Kaitlyn Frenchick.

Fifth grade: boys, Ben Moser, Michael Houske, Isaac Jones; girls, Kirsten Miller, Kristin Lang, and Cary Jo Schlick.

Sixth grade: boys, Matt Mergen, Mark Andrie, and John Hemingson; girls, Brooke Schmitz, Ashley Lieser, and Cassandra Lounsbury (second and third place were decided on a tie breaker).

Seventh grade: boys, Chris Beier, Mitchell Mackedanz, and Jeff Schaefer; girls, Samantha Moser and Kendra Johnson.

Eighth grade: boys, none competed; girls, Trisha Wendlandt and Heather Christensen.

Ninth grade: boys, Eric Miller and Todd Stelling; girls, Jenny Berg.
---