Family profiled in golf magazine
This article submitted by Michael Jacobson on 11/22/00.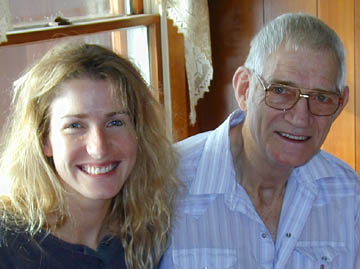 A day after reading about themselves in a national magazine, local residents Leroy Notch and his daughter, Anne, were still laughing.

The Notches, and their obsession with golfing, were featured in the December issue of Golf Magazine, which was published last week.

"Pretty good," said Leroy of the article, which weaves his wife's death from cancer and his near-tragic accident around the family's love for golf. "The guy knows what he's doing."

The guy is author James Dodson, who Leroy describes as a nice guy to play golf with and an easy guy to talk to.

"I was laughing by the second paragraph," said Anne.

"It's funny to see your life in a magazine from another standpoint," Anne added.

Leroy got his first chuckle at his own expense upon seeing the caricature that accompanies the article. The cartoon likeness of Leroy that graces the opening page of the article illustrates Leroy's attachments to the game as well as some of his other interests, which come out in the article.

For instance, in his bag in the caricature, along with his golf clubs, are a hammer, T-square, and a drafting triangle. Notch, who taught industrial arts in the Paynesville schools for nearly 30 years, designed the clubhouse at Koronis Hills Golf Course. He also built his family's home, which is just a quarter mile farther west on Highway 23.

The caricature of Leroy also holds a self-modified contraption that he uses to push a tee into the ground and to place his ball on the tee. The article later describes that the device is needed because of an accident that nearly destroyed his legs two years ago. Leroy continued to play golf: buying and altering a used golf cart, learning a new swing, and modifying a device so he could tee up his ball without bending over.

That accident is only one way that the family opened up to Dodson when he spent an afternoon here last July to meet, interview, and play golf with Leroy and his sons, David and Tom. Anne accompanied the group on their round at Koronis Hills.

The article chronicles the Notches' lives in Paynesville, using golf as a focal point. "It covers most of the important steps in our lives," explained Anne. "Dad getting hurt. Losing mom."

The title, "More Air Than Wood," comes from a saying that the family's late matriarch, Mary, used to say. On the sharp dog-leg left - old #4 and now #16 at Koronis Hills - Mary would utter those words before hitting a low shot through the trees towards the green.

Trees, after all, have more air than wood, she noted. "She'd always say there's more than a 50-50 chance," explained Leroy.

The last thing from that caricature is Leroy's golf spikes...or lack thereof. "I don't think I've ever seen dad in golfing spikes," explained Anne.

But in the caricature, the spikes are very prominent, as Leroy rests his foot on the front of the cart.

Leroy and Anne expect local people, especially local golfers, will get much enjoyment and laughter in seeing familiar faces and places described in such rich detail. A day after reading the article, they were still rereading passages and laughing at details and descriptions.

Leroy read one passage and pointed to Dodson's use of forest instead of woods. "Just one lousy word makes it that much better," he explained.

They will notice some inaccuracies. What can you expect when a guy comes from Maine, spends an afternoon in Paynesville, and writes about a family's life over 40 years here?

So, the second hole at Koronis Hills is 100 yards longer than it really is. So, a few other details are wrong. The Notches are pleased that the article captures the spirit of their lives correctly, and relays it to the nation in vivid terms.

Dodson, who helped Arnold Palmer write his autobiography, got a tip from someone in the Twin Cities to do a story about Leroy and his family. He started calling in June and arranged to come out in July.

"I was hesitant about it at first," said Leroy. "He called four or five times."

When he arrived, Dodson played 18 holes of golf with Leroy, David, and Tom, with Anne watching. (Leroy's other son, Paul, lives in Washington state and couldn't join in.) Then Dodson took the family to dinner before flying back east.

On the course, Leroy and Anne said Dodson wielded his tape recorder much more expertly than his golf clubs. He had an off day with his clubs and threatened to join Anne as a spectator, but he engendered trust and got them to talk about sensitive subjects. "When we were walking down the fairways with him, he was always talking," said Anne. "Always asking questions."

Dodson was impressed with the course. "He really spoke highly of the course: the challenge of it, the layout, the beauty of it," said Leroy.

Dodson told him that the series of features on average golfers was meant to avoid the monotony of a magazine devoted exclusively to professional golfers.

Leroy's not sure how readers around the nation will like the story. But he thinks local golfers will enjoy it, and he knows his family will treasure it.

"I think a lot of people will read this and hardly crack a smile, but to us it means quite a bit," he said.
---