Senior Derek Burris and junior Mike Mueller were named All Conference in the West Central Conference South for the Bulldogs football team this fall.

Junior Justin Butkofski and ninth grader Randy Leyendecker earned honorable mention honors.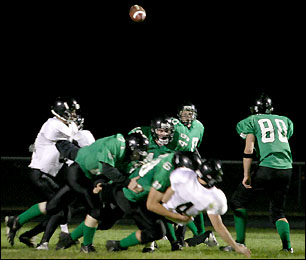 The Bulldogs finished their season 0-9 overall and 0-5 in the West Central Conference South.
The team's awardwinners were announced at their season-ending banquet last week.
Senior Derek Burris (68) pressures LPGE's quarterback this fall as junior Mike Mueller (49) prepares to help. Both were named to the All Conference team in the West Central Conference South this fall.
Burris - a guard on offense, as well as a defensive tackle - paved the way for the Dogs' ground game. The Bulldogs rushed for 1,566 yards, averaging 4.2 yards per carry and 174 yards per game.
Burris, who hurt his knee late in the season, was fifth on the team in defensive points (69) and sixth on the team in total tackles (31).
At linebacker, Mueller led the defense in tackles (85) and total points (125). At fullback, he also rushed for 331 yards, averaging 4.8 yards per carry, and led the team with 17 pass receptions.
Leyendecker led the team with 720 rushing yards and scored eight touchdowns (out of the team's 17 total touchdowns).
Butkofski, also an offensive guard and defensive tackle, was fifth on the team in tackles (43) and sixth in defensive points (62). He also handled the kicking and punting duties for the Bulldogs this season.
Butkofski was also named to the all-section team in Section 5AA, as the Bulldogs lost a hard-fought first-round game to Holdingford 24-14 to end their season. Sophomore quarterback Jamie Paul - who passed for 114 yards and a touchdown against Holdingford and 440 yards for the season - was also named to the all-section team.
Butkofski, Mueller, and Paul were named captains for 2004.
Individual Statistics
Rushing (attempts-yards-AVG-TDs): Randy Leyendecker 151-720-4.8-8; Mike Mueller 69-331-4.8-1; Aaron Bachman 58-220-3.8; Keith Klein 7-90-12.8-1; Matt Hansen 21-85-4.1-2; Eric Hansen 18-39-2.2; John Hemingson 5-31-6.2; Ben Lingl 3-14-4.7; Sean Glenz 3-(-3)-(-1.0); Jamie Paul 28-(-5)-(-0.2);
Passing (completions-attempts-yards-TDs-INTs): Paul 37-75-440-2-5; Glenz 11-25-152-1-2; Derek Stanger 1-1-43; Hemingson 1-1-11; Leyendecker 0-1;
Receiving (receptions-yards-TDs): Doug Mages 14-202-1; Mueller 17-190; Jordan Haag 7-142-2; Leyendecker 6-57; Eric Hansen 3-29; Bachman 3-19;
Scoring (TDs-2-point PATs-points): Leyendecker 8-2-52; Haag 2-2-16; Matt Hansen 2-1-14; Mueller 1-3-12; Mages 1-1-8; Eric Hansen 1-0-6; Klein 1-0-6; Pat Utsch 1-0-6;
Kickoffs (kicks-AVG): Justin Butkofski 22-39.8;
Punt Returns (returns-yards-AVG): Mages 5-58-11.6; Leyendecker 3-44-14.7;
Punts (kicks-AVG): Mages 22-36.0; Butkofski 6-33.3;
Interceptions: Mages 2; Trent Hansen 1; Leyendecker 1;
Tackles (solo-assists-total): Mueller 32-53-85; Dustin Utsch 18-46-64; Klein 21-37-58; Mages 30-16-46; Butkofski 11-32-43; Derek Burris 12-19-31; Derek Stanger 12-19-31; Haag 9-19-28; Eric Hansen 11-12-23; Pat Utsch 6-17-23; Bachman 6-15-21; Josh Tebben 5-14-19;
Sacks: Burris 1; Butkofski 1; Eric Hansen 1; Matt Hansen 1; Mueller 1;
Defensive Points: Mueller 125; Klein 93; Dustin Utsch 91; Mages 90; Burris 69; Butkofski 62; Stanger 50;
Fumbles Caused: Burris 1; Trent Hansen 1;
Fumbles Recovered: Klein 2; Butkofski 1; Greg Price 1; Dustin Utsch 1; Pat Utsch 1.
Team Statistics

| | | |
| --- | --- | --- |
| | Pay | Opp |
| Rushes-Yards | 373-1,566 | 347-2,019 |
| Passing-Yards | 50-103-646 | 85-142-1,725 |
| Total offense | 476-2,210 | 489-3,744 |
| Points | 120 | 344 |
| Total first downs | 107 | 112 |
| Penalties | 32-265 | 25-155 |
| Fumbles lost | 10 | 8 |
| Interceptions thrown | 7 | 4 |
---
Contact the author at editor@paynesvillepress.com • Return to Sports
Home | Marketplace | Community
---