Girls hockey team wins season opener 8-0
This article submitted by Courtney Karsch on 11/16/98.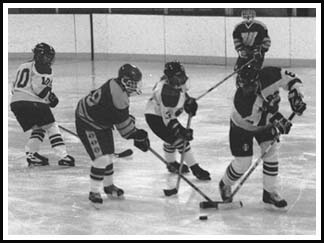 Well, itís that time of year again and the hockey season has officially started. But, instead of just having one girl to represent Paynesville we have two this year: Jenny Habben and Courtney Karsch.

The River Lake Stars Girls have a great start. They have a decent size team, which consists of two eighth graders, three ninth graders, four tenth graders, seven 11th graders and one senior.

The team consists of girls from St. Johnís Prep, ROCORI and Paynesville. The names of the girls on the team are: Tiffany Clements, Marya Losinski, Julia Mehr, Anne Bohlman, Emily Doll, Karen Hafner, Katie Green, Jenny Habben, Natalie Rinn, Mary Beth Johannes, Shari Vogt, Page Widick, Kari Turkowski, Melissa Jungles, Courtney Karsch, Melissa Sieben, and Jesse Simon.

The fact the Stars didnít lose any seniors and that they gained more players is to their advantage. The coaches for the Stars this year are the same as last year. Coaches are: Valerie VanBeusekom, head coach; assistant coaches are Paula Vogt (former Gopher hockey player and now playing for St. Benís) and Jim Caron.

The Stars have had two scrimmages and one game so far this season. Their scrimmages were basically learning experiences and to get familiar again with the game.

The girls had their first official game on Thursday, Nov. 12, at home against Wadena-Deer Creek. They were a little nervous, but knew what they had to do to win. That is exactly what they did. They finished off strong and won.

Scoring goals were: Kari Turkowski, 4; Natalie Rinn, 2; Courtney Karsch and Marya Losinski, one each. This gave the Stars a victory of 8-0. It was a great way to start off the season!

The Stars played yesterday, Nov. 17, at St. Francis and they play on Saturday at home (River Lake Stars Arena in Richmond) at 7 p.m.

Come and see what these girls can do!
---