8th grades have successful football season
This article submitted by Mike Elmhorst, coach, on 11/16/98.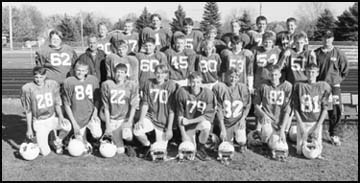 The eighth grade football team enjoyed a very successful season.

The season started with a win over Eden Valley-Watkins. The Bulldogs were able to physically dominate the game with hard hitting defense and by running the ball. Leading the way on the ground were Chris Fuchs, Tony Spates and Kevin Mehr.

The team then played a series of four scrimmages against Willmar, New London-Spicer, Melrose, and Litchfield. The Bulldogs generally outplayed their opponents. The most dominating performances came in the game between New London-Spicer where Paynesville outscored their opponent eight touchdowns to one.

A perfect season was marred by a disappointing 22-14 loss to Sauk Centre in the season finale. The game did highlight several long passes from quarterback Kevin Mehr to end Todd Stelling, as well as a successfully recovered on-side kick as the Bulldogs fell short in their comeback attempt.

Coaches Mike Elmhorst and Jerry Hunt feel this is a group with a lot of potential. The team is not blessed with many large players but compensates for that with speed and by consistently outhitting opponents.

Leading hitters on defense included Josh Krupke, Josh Teicher, Ryan Glenz, John Knapp and Josh Kampsen.

The play of defensive ends Ryan Wendlandt, Tony Spates, Justin Reeck and Milan Virant was also important to the success of the defense employed by the team.

This group should be very successful if they stay committed to football in high school and play together as a team.

---