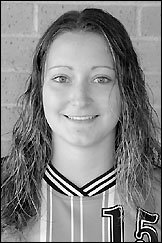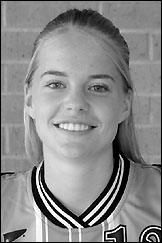 Senior Brittany Lieser (left) earned All Conference honors in volleyball in the West Central Conference North this fall, and junior Lynn Lieser earned honorable mention honors for the Bulldogs.

Britt Lieser, an outside hitter, led the Dogs with 273 digs, 41 ace serves, and 275 total good serves. She also contributed 108 kills and eight blocks.

Lynn Lieser (right), a middle hitter, was among the team leaders in a number of categories: fourth in kills with 82, third in blocks with 43, fifth in digs with 121, fourth in total serves with 229, and third in ace serves with 27.

The Dogs finished 9-14 this fall, including 3-7 in the WCC North.

At the team's end-of-the-year banquet, two team awards were given. Senior Ashley Spanier was given the Will to Win Award, and junior Shonda Martinson was named the Rookie of the Year for the varsity squad.

Individual statistical leaders for the volleyball team this fall were:
*Senior middle hitter Rachael Wendlandt in kills with 146, followed by Martinson with 122. Britt Lieser was third on the team, and Lynn Lieser was fourth.

*Martinson with 56 blocks, followed by Wendlandt with 47. Lieser was third, senior Sam Moser was fourth with 18, and senior Katie Nelson was fifth with 12.

*Senior setter Kendra Johnson with 263 ace assists, followed by junior setter Ashley Lieser with 201.

*Britt Lieser with 273 digs, followed by senior Kayla Mackedanz (the team's primary libero, or defensive specialist) with 223. Johnson was third with 137, senior Val Callenius was fourth with 135, and Lynn Lieser was fifth with 121.

*Britt Lieser with 275 total serves (in 309 attempts) and 41 ace serves. Wendlandt was second in total serves with 238, followed by Ashley Lieser with 231, Lynn Lieser with 229, and Johnson with 211. Ashley Lieser was second with 28 ace serves, followed by Lynn Lieser with 27 ace serves.

Individual Statistics
Hitting: Rachael Wendlandt 146A; Shonda Martinson 122A; Brittany Lieser 108A; Lynn Lieser 82A; Val Callenius 35A; Sam Moser 25A; Mel Mages 16A; Katie Nelson 6A; Kendra Johnson 3A; Amanda Skalicky 2A; Kayla Mackedanz 1A; Team 546A;

Serving: Britt Lieser 275/309 - 41A; Wendlandt 238/251 - 17A; Ashley Lieser 231/248 - 28A; Lynn Lieser 229/243 - 27A; Kendra Johnson 211/227 - 20A; Callenius 84/105; Mages 45/53 - 5A; Skalicky 21/23 - 6A; Ashley Spanier 12/12 - 2A; Martinson 9/11 - 2A; Katie Nelson 3/5; Kayla Mackedanz 3/3; Team 1,382/1,510 (91.5%) - 148A;

Blocks: Martinson 56A; Wendlandt 47A; Lynn Lieser 43A; Moser 18A; Nelson 12A; Britt Lieser 8A; Callenius 3A; Mages 2A; Team 189A;

Assists: Johnson 263A; Ashley Lieser 201A; Martinson 17A; Lynn Lieser 6A; Moser 6A; Callenius 4A; Britt Lieser 3A; Wendlandt 2A; Mages 1A; Nelson 1A; Skalicky 1A; Team 505A;

Digs: Britt Lieser 273; Mackedanz 223; Johnson 137; Callenius 135; Lynn Lieser 121; Wendlandt 104; Mages 66; Ashley Lieser 64; Martinson 64; Moser 54; Skalicky 29; Spanier 8; Nelson 7; Team 1,285.
---
Contact the author at editor@paynesvillepress.com • Return to Sports
Home | Marketplace | Community
---