The River Lakes Stars girls' hockey team outskated, outskilled, and outplayed Benson/Morris/ Hancock on Thursday night at the Koronis Civic Arena, winning their season opener 7-0.

The young team, which lost five players to graduation last year and has only one senior on its roster, dominated Benson/Morris/Hancock to win their opening nonconference game. The Stars outshot the Storm 61-11, including a 30-3 margin in the third period.

The Stars built a 3-0 lead in the first period on three unassisted goals. Junior Amber Schulzetenberge scored the first goal five minutes into the game. Ninth grader Abbie Rhoda and junior Marie Omann added goals in the last three minutes of the period.

The Stars only scored one goal in the second period, with Schulzetenberge getting her second score midway through the period, but they showed their ability even in killing penalties. The Stars killed three penalties, including 30 seconds of 5-on-3 hockey, while keeping the puck primarily in the Storm zone.

The Stars added three more goals in the third period, including two tallies on the power play. Junior Allie Stalboerger, senior Janile Lewis, and ninth grader Greta Oman scored for the Stars in the third period.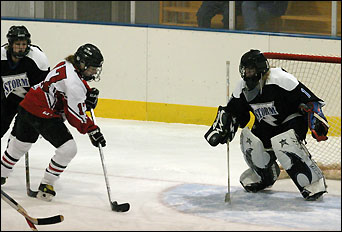 Sophomore Kacey Nyberg, in her first varsity start in goal, recorded a shutout, stopping all 11 shots she faced.
Junior Amber Schulzetenberge scored two goals for the Stars in their opening 7-0 victory on Thursday at the Koronis Civic Arena.
Coach Kirby St. John, who is in his second year as the girls' varsity coach, thinks this year's team has a chance to better last year's record of 12-12. The team, while still young, returns its top five scorers from last year: Schulzetenberge (20 goals, six assists, 26 points); Stalboerger (16 goals, nine assists, 25 points); Omann (seven goals, 17 assists, 24 points); Rhoda (eight goals, seven assists, 15 points); and ninth grader Kenzie Novak (five goals, eight assists, 13 points).
Jenn Paul, a seventh grader at PAMS, will play left wing on one of the top two forward lines and also will see time on the power play and penalty kill units. Sophomore Kaila Hartmann is battling for time at defense on the varsity, but also will likely see action on the junior varsity. Other Paynesville players on the junior varsity include eighth grade defenseman Jayna Flanders, eighth grade forward Kelsey Miller, ninth grade forward Tarin Beireis, and junior forward Sheena Hoekstra.
A key to the season will be Nyberg's development in goal, said St. John. While she has raw ability and talent, she does not have much experience between the pipes, playing mostly forward before this year. She replaces Trish Wendlandt, who graduated last spring.
While Nyberg looked good in her first test this winter, tougher teams await the Stars. Before the end of November, the Stars will face Alexandria and Brainerd on the road and section powers St. Cloud Tech and Wright County in Richmond. The Stars will also play in a Thanks-giving tournament at Duluth East, facing Duluth East in the first round and either Bloomington Kennedy or Cambridge in the second round, noted St. John, who will be assisted this year by Jeremy Curran.
River Lakes hockey is a cooperative team between Albany, EV-W, New London-Spicer, Paynes-ville, Rocori, and St. John's Prep.
This week, the Stars played at Alexandria on Tuesday, and they will play at Brainerd on Thursday and will host Wright County on Saturday at Richmond. Next week, they will host St. Cloud Tech at Richmond on Tuesday, Nov. 23.
| | | | | |
| --- | --- | --- | --- | --- |
| Benson/Morris-- | 0 | 0 | 0 | - 0 |
| River Lakes-- | 3 | 1 | 3 | - 7 |
Scoring Summary
First Period: RL-Amber Schulzetenberge, 12:03; RL-Abbie Rhoda, 2:39; RL-Marie Omann, 1:06;
Second Period: RL-Schulzetenberge (Omann, Tori Aretz), 6:35;
Third Period: RL-Allie Stalboerger, 13:28 pp; RL-Janile Lewis (Kenzie Novak, Stalboerger), 5:57 pp; RL-Greta Omann (Aretz),1:33.
Shakopee 6, River Lakes 4
The Stars outshot Shakopee 48-24 on Saturday at the Koronis Civic Arena in Paynesville, but Shakopee took an early lead and held on to win the nonconference game 6-4.
Shakopee scored their first goal 90 seconds into the game and led throughout, though the Stars battled to cut the deficit to one to end the first period and again with 10 minutes to play.
Seventh grader Jenn Paul scored her first varsity goal for the Stars at the end of the first period, scoring a short-handed goal with 15 seconds to play in the first period and cutting Shakopee's lead to 2-1.
Shakopee outscored the Stars 3-2 in the second period, building a 5-3 lead. After Shakopee took a 4-1 lead, junior Marie Omann scored for the Stars and then senior Janile Lewis added a power-play goal at the end of the second period.
Lewis scored again in the third period, with 10 minutes to play, cutting the Stars' deficit to 5-4, but the Stars could not score a tying goal. Shakopee scored an empty-net goal with 17 seconds to play to make the final score 6-4.
The Stars are now 1-1 this season.
| | | | | |
| --- | --- | --- | --- | --- |
| Shakopee-- | 2 | 3 | 1 | - 6 |
| River Lakes-- | 1 | 2 | 1 | - 4 |
Scoring Summary
First Period: S-Kara Ledel (Kendre Ledel, Abbie Peterson), 15:30; S-Nicole Anderson (Kayla Peterson), 8:07; RL-Jenn Paul (Abbie Rhoda), 0:15 (sh);
Second Period: S-Cassie Forster, 10:54; S-Peterson (Ledel, Forster), 8:17 (pp); RL-Marie Omann (Amber Schulzetenberge), 8:06; S-Peterson (Jennifer Nozakavich), Ledel) ,3:32 (pp); RL-Janile Lewis (Allie Stalboerger, Schulzetenberge), 2:38 (pp);
Third Period: RL-Lewis (Blythe Sjoberg), 10:30; S-Ledel (Forster), 0:17 (pp) (en).
---
Contact the author at editor@paynesvillepress.com • Return to Sports
Home | Marketplace | Community
---