The River Lakes Stars girls' hockey team lost their opener 5-1 to Shakopee on Saturday at the Koronis Civic Arena in Paynesville.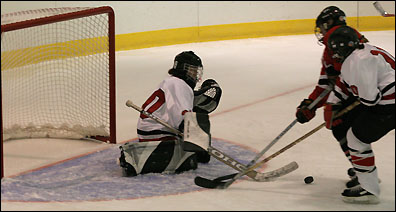 Shakopee broke a 1-1 tie with a second goal in the first period and then scored three unanswered goals in the second period to build a 5-1 lead. The two teams skated without scoring in the third period.
Shakopee scored five minutes into the game with junior Nicole Anderson scoring off a nice centering feed.
Sophomore goalie Tracy Skluzacek reached for the puck as senior defenseman Kaila Hartmann (10) fended off a Shakopee forward on Saturday afternoon. The Stars lost their sesson opener 5-1 to Shakopee in Paynesville.
The Stars evened the score with a shorthanded goal midway thru the period. Ninth grader Jenn Paul shot a clearing attempt from the Stars' zone at the Shakopee goal, which the goalie bobbled and dropped into the goal (landing in goal herself).
Anderson scored again on a rebound a minute later to give Shakopee a 2-1 lead.
With the officials calling a tighter game - allowing less interfering and clutching - the Stars enjoyed a two-man power play starting with five minutes left in the first period. With additional Shakopee penalties, their power play lasted until 90 seconds were left in the period, but the Stars were unable to score.
The Sabers scored three minutes into the second period, Anderson stole the puck and roofed a wrist shot midway thru the period to complete her hat trick, and the Sabers scored a shorthanded goal on a breakaway in the last minute of the period to make the final 5-1.
Last year, Shakopee beat the Stars 4-2 in their season opener.
The Stars this year feature five Paynesville players, including three on the varsity: senior defenseman Kaila Hartmann, Paul, and ninth grade goalie Steph Lucas. Junior forward Tarin Beireis and sophomore forward Kelsey Miller play for the junior varsity.
The Stars - coached again by Kirby St. John, assisted again by Jeremy Curran - finished 13-11-3 last year, but they graduated their top two scorers in Marie Omann (21 goals, 37 points) and Amber Schulzetenberge (20 goals, 36 points).
Leading returning scorers are junior Kenzie Novak (17 goals, 32 points), junior Abbie Rhoda (12 goals, 31 points), Paul (six goals, 25 points), and junior Greta Omann (two goals, 15 points).
Sophomore Tracy Skluzacek, who split time in goal last year, returns as goalie this year. She made 26 saves in the opener.
This week, the Stars play at Brainerd on Thursday for their first road game. They will host St. Cloud Tech next week on Tuesday, Nov. 21, at the River Lakes Arena in Richmond.
| | | | | |
| --- | --- | --- | --- | --- |
| Shakopee-- | 2 | 3 | 0 | - 5 |
| River Lakes-- | 1 | 0 | 0 | - 1 |
Scoring Summary
First Period: S-Nicole Anderson (Abbie Peterson, Kendra Ledel), 5:06; RL-Jenn Paul, 8:41 (sh); S-Anderson (Jenny Novakovich), 9:30;
Second Period: S-Novakovich, 2:54; S-Anderson (Novakovich), 9:32; S-Randi Weinzierl, 16:23 (sh);
Third Period: No scoring.
---
Contact the author at editor@paynesvillepress.com • Return to Sports
Home | Marketplace | Community
---