Deer harvest up in central Minnesota
This article submitted by Linda Stelling on 11/15/00.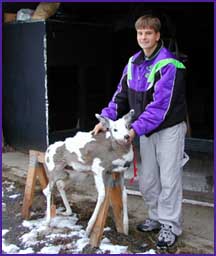 Deer hunters in the Paynesville area had good results the opening weekend.

The Department of Natural Resources (DNR) reported that excellent hunting weather and an increase in anterless permits contributed to a 12 percent increase in the deer harvest for the east-central Minnesota area.

Ryan Glenz, 16, poses with the albino deer he shot last weekend while hunting north of Brainerd. Glenz saw the female fawn the weekend before, but it was too far away to tell what it was. After shooting it, he and his hunting party ran into a number of other hunters had also seen it. This is Glenz' ninth deer.

C&G Meats reported they checked in 120 deer the first weekend of the deer season compared to 80 last year. On the second weekend; however, there were only 29 deer were registered by Monday afternoon. Hunters had until Tuesday afternoon to register their deer from the second weekend.

One hunting party by Regal reported shooting 12 deer in a group of 15 hunters. Another group by the Assembly Grounds shot three for 13 hunters.

Sean Evans at Hilltop Stop, Paynesville, reported 178 deer were checked the first weekend and 110 by Monday afternoon of the second weekend.

"There were a lot of nice bucks registered," Evans said.

Hunters have until Tuesday evening to register their deer at game stations across the state.

Evans said the lower count for the second weekend was being blamed on the weather.

According to the DNR, after the opening weekend, 27,162 deer were reported at registration stations. Last year, there were 24,325 registered. Two years ago, only 17,365 deer were registered.

"Weather was very good over the opening weekend," said Dave Schad, DNR regional wildlife supervisor. "It allowed hunters to stay out in the stands."

There are reports that hunters are being more selective this year. In Aitkin, bucks accounted for 60 percent of the harvest, and in Cambridge 59 percent of those reported were bucks.

The rainy weather has slowed hunting and may make weekend hunting more difficult. Schad said there are many water-logged roads and trails in the woods, making access difficult.

Stations in the Little Falls area saw a six percent increase and in the Cambridge area the harvest was up four percent. Harvest in the St. Cloud area declined four percent, but remained above the seven-year average.

Fred Bengtson, St. Cloud area wild-life manager, reports the deer harvest was down seven percent in the Willmar area after the first weekend of hunting.

"The deer had three good winters to grow. I expect this year's total harvest to be slighly above last year's," Bengtson said.

The bow season is still open for hunters until the end of December. The muzzleloader season opens on Saturday, Nov. 25, to Sunday, Dec. 10.
---