Intense, dedicated training helped Jen Hess win three state titles in high school, including two in cross country. But this fall, as she completed her freshman year at the University of Minnesota, running on the women's cross country team, Hess has had to learn to train smarter, not harder.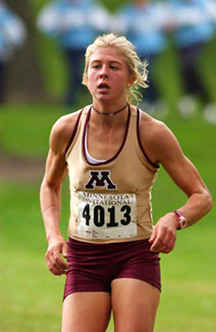 Hess had to learn that easy practice days really had to be easy. You won't stay afloat, she explained, if you go as hard as possible all the time. "You can't run tired (at the Division I level)," she said.
Jen Hess, a two-time state cross country champion in high school, is running for the Minnesota Gophers this fall.
Smarter training has helped her times. She now can run faster times over 4,000-meters (the distance of high school girls' races) than she ran last year, and still run another 2,000-meters to finish the 6,000-meter, or six-kilometer, women's collegiate cross country race.
Her goal at the start of the season was to make the traveling squad at the U of M, the top seven runners who fly to away meets across the midwest. During a weeklong training camp at Ely this summer, making the traveling squad seemed pretty good to Hess.
Since then, though, two teammates have suffered season-ending injuries, another has had health problems throughout the season, and a fourth suffered a sprained ankle. The team started the season ranked 17th in the nation, but due to these injuries has slipped in the national rankings.
Still, with no seniors on the traveling squad, Hess is optimistic about the team's future. She has run second to fourth for the team this fall.
Her best finish was fourth overall at the Iowa State Invite, covering the four-kilometer course in 14:27, or nearly 30 seconds faster than the time she covered the course at state last year as she won her second Class A cross country title.
Most recently, she finished 22nd overall at the Big Ten meet in early November in West Lafayette, Ind. Her goal at that meet was to finish in the top 14 and earn All Big Ten second team honors, but she fell a little short.
Next up for the team is regionals in Normal, Ill., on Saturday. Their goal is to finish in the top two and advance to nationals.
Most of their preparation centers around themselves and getting to run the best race they can, said Hess. "We don't focus on (other teams) a lot until we get (to the meet)," she said.
Her goal at nationals, if the team qualifies, is to run the six-kilometer course in at least 21 minutes and 30 seconds. Her original goal was 22 minutes, but she already accomplished that when the team ran in Terre Haute, Ind., at the pre-NCAA meet in October. Nationals will be on Monday, Nov. 25, at Terre Haute.
Running in the pack at college meets means that Hess has to worry more about tactics than she did in high school, when she won 30 races and lost only two in her final three seasons on the varsity, collecting two state titles.
"I just don't go out there and run in front of everyone," she explained. "Go out in the first mile and win and finish the race (like high school). I have to run smarter."
Now she has to focus on staying clear of the pack, looking for spots to speed up on the course, and watching her splits. They break every race into one-kilometer segments, so Hess continues to wear a watch to mark her progress.
Cross country teams are usually marked by strong camaraderie, but Hess said the camaraderie on her collegiate team is even stronger than in high school. This is for one reason: she and her teammates not only train together, they live together. Hess's roommate is a runner, her neighbors are runners, and the much of the rest of the team lives in the same hall, as do lots of other athletes.
Hess, the daughter of Dave and Barb Hess of Paynesville, is planning to major in nutrition science, getting a bachelor of science degree, with the ultimate goal of attending medical school.
She enjoys running collegiately. "It keeps me sane," she said. "I have two lives. I have my running and training, and I have school."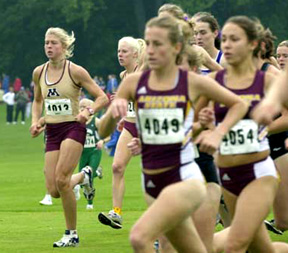 Each runner has a weekly mileage. On Sundays, they do a long run, 25 percent of their weekly mileage, which for Hess usually means a seven- to 14-mile run.
Hess, who has a full athletic and academic scholarship at the U of M, plans to compete in the 5,000-meter run in indoor track this winter and either that or the 10,000-meter run outdoors next spring.
On Mondays, they run progressive runs, concentrating on running at a certain heart rate, usually at a park in the Twin Cities. So far, they have run around most of the lakes in Minneapolis. Seeing new scenery makes it fun for the first year, Hess joked.
Tuesdays are an easy day, but Wednesdays are the hardest practice days of the week, with the team running at the University of Minnesota Golf Course. Typically they run multiple timed distances, from one to three kilometers in length.
Thursdays are another easy day, not exceeding a heart rate of 140. "That's something hard for me," confessed Hess. "You really have to go slow to achieve that."
Some days Hess will feel really good, but the training will not call for her to push herself. In high school, she tended to train hard all the time. "I always just liked to run," she explained.
On Fridays, they either have another hard workout or they hold their pre-meet meeting and travel to the meet. On Saturdays, they either run in a meet or have an easy practice, which brings them back to Sunday. They also lift weights two mornings per week. In all, they spend about 20 hours a week training, including weight lifting.
While cross country runners are stronger than they look, Hess said it's horrible sharing the weight room with football players and other power lifters.
Perks of being a Division I athlete include professional massages, getting into other sporting events for free (except football, men's hockey, and men's basketball), lots of clothes, paid tutors, and getting priority for registration. Hess has it figured that she could graduate in three and a half years, though she will probably stay for four years so she can run through her senior year. She would also like to study abroad for a semester, but that conflicts with either the track or cross country season.
Once the cross country season ends, in late November, the team takes two entire weeks off before starting to train for indoor track in mid-December. Hess will not even be allowed to cross train, only to bike to class. This will be the longest Hess has gone without training in some time. She isn't sure how she will manage to go so long without training. "It's going to be hard," she said.
"Sometimes I miss running on the quiet country roads," said Hess, who grew up in Lake Henry and used to run through the countryside surrounding the small town, "but I like the city, too."
---
Contact the author at editor@paynesvillepress.com • Return to Sports
Home | Marketplace | Community
---