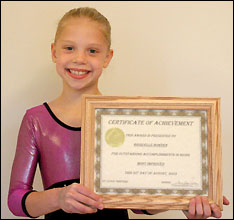 Briquelle Bowden, 9, a third grader at PAES, will compete next month in the state meet for the United States Gymnastics Association. The Minnesota state meet will be held at Roseville High School over the Dec. 13-14 weekend.

Briquelle has belonged to a USGA club for four years, the first three with the Twin City Twisters and the last year, since her family moved to Rice Lake, with the St. Cloud Twisters, with whom she practices three times a week for four hours a time year round.

Third grader Briquelle Bowden - holding her Most Improved Award from the St. Cloud Twisters - will compete at the Minnesota state meet for the United States Gymnastics Association in December.

She is currently in Level 5 and qualified for state in the all around by scoring 31.6. (A score of 31.5 is needed to qualify for state.)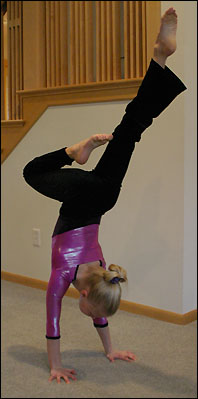 In her first year of competition with the club, Briquelle has competed in three meets this fall. She qualified for state on Sunday, Nov. 2, at a meet in Minnetonka, scoring 7.85 on the vault, 8.35 on the uneven bars, 7.5 on the balance beam, and 7.9 on the floor exercise. Twelve teams, with over 50 Level 5 gymnasts, competed at the Minnetonka meet.
In Level 5, gymnasts do compulsory routines, said her mother Lisa, a former standout gymnast for PAHS who is a coach with her club. They continue with compulsory moves and routines until reaching Level 7.
So far, Briquelle does a front handspring on the vault; various kips and front and back hip circles on the bars; cartwheels, handstands, leaps, and halfturns on the beam; and back and front handsprings, round offs, and various leaps in the floor exercise. To advance to Level 6, Briquelle is learning to do a flyaway dismount on the bars, a back walkover on the beam, and arials on the floor.
Briquelle Bowden, 9, practices a hand stand at home last week.
Her favorite, and best, event is the bars. "It's her favorite," said Lisa, "so whenever she has free time that's where she's at."
Briquelle's goal is to score a 9.0 on the bars this year. Her long-term goal is to become an elite gymnast by reaching Level 10.
Briquelle - the daughter of Lisa and Paul Bowden of Paynesville and the granddaughter of Bob and Candy Bowden and Gene and Sharon Schmidt, all of Paynesville - likes to run track and play volleyball and learned to waterski this summer but she said gymnastics is her favorite.
Her younger sister - Tahlia, 6 - is in Level 4 this year. Her brothers - Parker, 8, and Preston, 4 - used to be involved with the boys' gymnastics team with the Twin City Twisters.
---
Contact the author at editor@paynesvillepress.com • Return to Sports
Home | Marketplace | Community
---