Jen Hess finishes third at state cross country
This article submitted by Erin Aagesen on 11/10/99.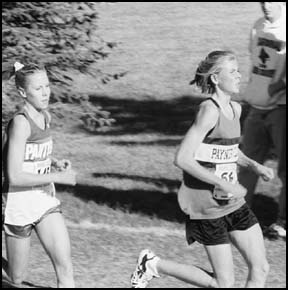 Jen Hess placed third among Class A girls at the state cross country meet on Saturday. This is the highest place a Paynesville girl has ever earned at the state meet.

The meet took place on Saturday, Nov. 6 on a course provided by St. Olaf College, which is located in Northfield. The course is mainly flat, with many small inclines and declines, and a moderate sized hill preceding the sprint to the finish line. The weather was sunny and calm and a comfortable 55 degrees.

Hess completed the 4,000-meter course in 14:57.1, bettered only by Julie Gifford of Tracy-Milroy and Joanna Bea of Rochester Lourdes, who finished with times of 14:30.2 and 14:53.7, respectively. Hess ran at the front of the pack of 141 elite runners from the time the gun sounded to start the race until the finish. She led, with Gifford on her shoulder, for the first half of the race. Gifford and Bea were able to pass her towards the end, but Hess maintained her pace.

Jen Hess led Julie Gifford through the first half of the race on Saturday, but the senior from Tracy-Milroy passed Hess and won the championship with a record time of 14:30:2. Hess was third in 14:57.1.

She received a third place state medal during the awards ceremony following the race. The top eight individuals in the state go up on the stage, or platform, to be recognized by all the runners and spectators present.

"She works hard and deserves to be one of the best in the state," said Clayton Lang, a teammate and the boys' team captain, before the meet.

"It's been wonderful being Jen's teammate," said girls' varsity runner Danielle Lieser. "She really deserves her success."

Background
Jen Hess is the 16-year-old daughter of Barb and Dave Hess of Lake Henry. She is a sophomore at Paynesville Area High School, where she is typically on the "A" honor roll.

In addition to her participation in cross country and track, she plays basketball, and is a PALS mentor and a peer tutor.

Hess hasn't always been a runner. She played volleyball during the fall season of her seventh grade year and hadn't thought about joining cross country.

She ran track in the spring of that year, first running the 400-meter race, then moving up to the 800-meter, and finally to the 1,600-meter. "The first time I ran the 800, I thought it was so long!" she remembered. She was successful that season, and Darrel Carstens, who coaches both junior high track and the varsity cross country teams, talked her into joining the cross country team the next fall.

This fall, another Hess joined the cross country team: Kim Hess, a seventh grader.

Since joining the team, Jen Hess has enjoyed numerous successes for her running abilities.

"We're always excited to see Jen run and see all her hard work pay off," said her mother, Barb, of her and her husband's roles as spectators. "We enjoy coming to meets because the team always seems like they're having a lot of fun."

Training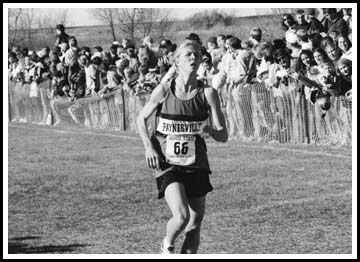 Hess's preparation for this year's cross country season began long before team practices began on Aug. 16. She has been running regularly for almost two years, running outside for most of the year and working out on her treadmill and playing basketball in the winter.
This past summer, Hess ran approximately 350 miles. She did this through participation in at least five road races, with four to five-mile training runs in between the races.
After placing 24th at state last year in cross country and earning two third place medals at state track last spring, her preseason goal for cross country this year was to place in the top five at state.
To accomplish this, she has run everyday since the season began, averaging 40-50 miles per week. In the beginning of the season, she would run for 20 minutes in the morning, but, as the weather got colder, she started getting up at 6 a.m. everyday to do a TaeBo workout indoors.
She did her evening workout with the team. This usually consisted of alternating days of speed and distance workouts. She often ran with the boys' team so that she would get a better workout.
"She's really fast," said Eric Rausch, a member of the boys' team. "I learned to face getting beat by a girl all the time!"
"Jen doesn't let anything stop her during a workout," said girls' team captain Carin Frenchick.
Stories circulate about Hess's dedication to her sport. During a track workout when she was in the eighth grade, she was tripped by a teammate and cut the side of her leg badly. She went in the school and cleaned her leg off, then returned to the track to finish her workout.
During a similar workout, a powerful rain sent the entire track team indoors with the exception of Hess, who waited five minutes for the storm to subside, and then, seeing the rain wasn't going to let up, returned to the track to finish her workout.
More examples of this unusual dedication are shown at home, where after practice, Hess does weight training every other day, concentrating on her legs and arms. She also does three sets of 100 sit-ups everyday.
"I think (Jen) is extremely hard working and very dedicated to being the best that she can be," said Carstens.
"She's an excellent athlete and a fun, intelligent person," said Ryan Flanders, a member of the boys' team.
Despite all her accomplishments, Hess said that her favorite cross country memory so far was the end of the season sleep-over with the girls' team last year.
Career results
Cross Country
All Conference in 1997, 1998, and 1999; All State in 1998 (24th place) and in 1999 (third place); Team awards: MVP, Most Mileage, Hardest Worker (all in 1998); Subsection and section champion in 1999; and KSAX Athlete of the Week in 1999.
Track
All Conference in the 800-meter run and the 1,600-meter run in 1998 and in 1999; 10th place at state in the 1,600-meter run in 1998; third place in both the 1,600-meter run and the 3,200-meter run in 1999; Team Award: Hardest Worker in 1998; and MVP and Hardest Worker in 1999.
School Records
Holds the school record for the indoor 3,200-meter run (11:55) and the outdoor 3,200-meter run (11:24), and was a member of the record holding team for both the indoor and outdoor 4x400-meter relay.
---