Sophomore Kacy Nehowig and ninth grader Kaitlyn Frenchick represented the Paynesville Bulldogs at the Class A girls' cross country meet on Saturday at St. Olaf College in Northfield.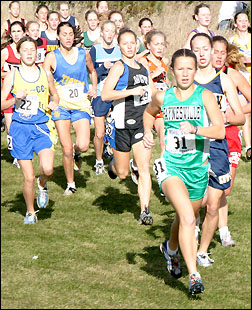 Both had hopes to earn All State honors on a warm, sunny Saturday morning, but each finished short of that goal. Nehowig finished in the top 25 percent of the 154 runners in the Class A girls' race, taking 36th place overall. Frenchick finished in the top half of Class A girls, running 67th overall.
Sophomore Kacy Nehowig, running at state for the fourth straight year, finished 26th in Class A on Saturday missing All State honors for a third time by 11 places and 24 secons.
"We were on the hunt for all state honors. Both ran good times and they did a great job for Paynesville cross country. We are very proud of them and will watch them again next year at state," said coach Darrel Carstens.
Nehowig ran at state for the fourth straight year. She had earned All State honors the past two years with back-to-back finishes of 18th place overall. (The top 25 runners earn All State honors.) Her time (15:54.8) was virtually the same as she had run in winning her second subsection title (15:59) and taking fifth in Section 5A (15:55).
She missed earning All State honors this year by 11 places and 24 seconds. Her best time this season (15:34) would have placed her 27th. Last year at state, she covered the 4,000-meter state course (roughly two and a half miles) in 15:08, a time that would have nearly placed her in the top ten this year.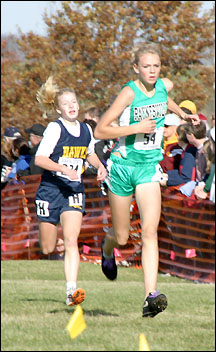 Frenchick - running at state for a second time, having been a member of the Bulldogs' team at state in 2002 - improved her time and finish at state from two year's ago. This year, she was 67th overall in 16:12. In 2002, she was 117th in 17:40, an improve-ment of 50 places and 90 seconds in her second state appearance.
Ninth grader Kaitlyn Frenchick finished 67th at state on Saturday, improving her finish by 50 places and 90 seconds from two years ago.
Conference rivals Libby Zupanc of St. Cloud Cathedral (14th), Beth Tacl of St. Cloud Cathedral (15th), and Briana Meyer of Sauk Centre (18th) did earn All State honors on Saturday. Section rivals Becker finished fifth in state, while Cathedral dropped to 15th.
Glencoe-Silver Lake won the Class A girls' team title, and senior Nicole Calabrese of Kingsland-Spring Valley won the Class A individual title, defeating defending champion Nikki Swenson of LQPV/ Dawson-Boyd.
With the state meet completed, the Bulldogs completed their 2004 cross country season.
Individual Results
1. Nicole Calabrese (Kingsland) 14:29.6
2. Nikki Swenson (LQPV/D-B) 14:33.7
3. Katharine Chute (Blake) 14:34.3
4. Claire Richardson (Blake) 14:35.2
5. M. Keane (Winona Cotter) 14:43.6
6. Jill Tholen (Tracy-Milroy) 14:44.1
7. Margarte Chute (Blake) 14:49.6
8. Bria Wetsch (Holy Family) 14:54.8
9. Morgan Lynn (Adrian) 15:04.3
10. Ella Smith (Becker) 15:05.4
11. Lexi Heitkamp (Luverne) 15:09.0
12. Katie Bono (Visitation) 15:14.0
13. Samantha Smith (Cromwell) 15:16.2
14. Libby Zupanc (Cathedral) 15:16.6
15. Beth Tacl (Cathedral) 15:19.2
16. Laura Christensen (MCC) 15:22.5
17. Maggie Zirbes (G-SL) 15:23.1
18. Briana Meyer (Sauk Centre) 15:23.4
19. Mo Campbell (Holy Family) 15:24.6
20. Jessica Lundgren (Fairmont) 15:26.1
21. McKenzie Burgess (MCW) 15:28.3
22. H. Landecker (Staples-Motley) 15:29.8
23. Brittany Gigstad (Perham) 15:31.0
24. Kate Meyer (SPA) 15:31.0
25. Katie Zirbes (G-SL) 15:31.0
32. Jennifer Becker (EV-W) 15:48.5
36. Kacy Nehowig 15:54.8
39. Kendra Bengtson (Albany) 15:56.8
67. Kaitlyn Frenchick 16:12.0
135. Molly McPherson (Cathedral) 17:35.2
144. Sarah Mahowald (Cathedral) 18:04.1
151. Kelsey Kudak (Cathedral) 18:44.6
152. Ann Pederson (Cathedral) 18:56.6
153. Sarah Marrinan (Cathedral) 19:26.6
A total of 154 runners competed in the Class A girls' race at state.
Team Scores
1. Glencoe-Silver Lake 111
2. Staples-Motley 121
3. Blake 137
4. Perham 150
5. Becker 152
6. Luverne 170
7. Kingsland/Spring Valley 176
8. Hermantown 205
9. Rochester Lourdes 218
10. Ely 226
11. Crosby-Ironton/Aitken 256
12. Canby/Minneota/Lincoln 261
13. United South Central 265
14. Visitation 283
15. St. Cloud Cathedral 312
16. Lake Park-Audubon 375
---
Contact the author at editor@paynesvillepress.com • Return to Sports
Home | Marketplace | Community
---