Sophomore Linda Keller finished third at the Class A cross country meet at St. Olaf College in Northfield on Saturday, earning All State honors for the second straight year and recording the third-highest finish by a PAHS runner ever at state cross country.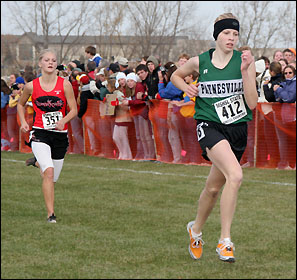 Keller improved from 16th last year at the state meet, shaving 27 seconds off her time at state.
Sophomore Linda Keller outsprinted Naomi Landecker of Staples-Motley down the homestretch at the Class A state cross country meet at St. Olaf College in Northfield on Saturday morning, finishing third and earning All State honors for the second straight year. Keller's time was 15 minutes over the 4,000-meter course at state. Her finish at state is the third highest in school history behind only Jen Hess (Class A titles in 2000 and 2001) and Joel Fenske (a runner-up finish in 1993).
She started the girls' 4,000-kilometer course in a group in the top 12, trailing early leaders senior Nikki Swenson of Lac Qui Parle Valley and Claire Richardson of the Blake School, who finished 1-2.
At the 1,600-meter mark, Keller was running about ninth. Assistant coach Todd Spanier said he knew Keller was going to move up when he saw her at this point, because the other runners in the group were laboring and she was running smoothly.
In the back loop of the course at St. Olaf, Keller passed most of the runners in this lead group. She said that she moved up slowly.
Coming out of the back loop, Keller and sophomore Naomi Landecker of Staples-Motley were neck-and-neck for third. Keller passed Landecker heading into the home stretch and stayed in front in a sprint to the finish line.
In 34 years of coaching and more than a dozen trips to the state tournament, coach Darrel Carstens said he has never seen a finish like that at the state meet. "I thought she looked really strong at the finish," said Carstens. "She always looks strong, but she looked exceptionally strong (today)."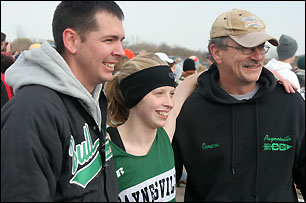 Swenson, who won the Class A race in 2002 and finished as the runner-up the past two years, won her second individual state title on Saturday and then committed to running at the University of Minnesota next year. She beat Richardson, also a senior, by nearly 30 seconds.
Assistant coach Todd Spanier, sophomore Linda Keller, and head coach Darrel Carstens shared a hug and photo opportunity after her third-place finish at state on Saturday. Keller recorded the third-highest finish at state cross country in school history.
Keller, the highest underclassman finisher in the Class A girls' race, finished nine seconds behind Richardson and a fraction of a second ahead of Landecker.
After earning All State honors last year, Carstens said their goal for Keller since the start of the year was to finish in the top eight at state, earn a medal, and reach the medal stand at the awards ceremony. Keller said that she thought she could finish in the top six at state.
Only two PAHS runners have finished higher than third at state. Jen Hess won Class A state titles in 2000 and 2001 and finished third in 1999. Joel Fenske finished second in 1993 and third in 1992 (as well as fifth in 1991).
In addition to Keller, two other Bulldog runners have top-five finishes at the state cross country meet. Dave Owen finished fourth in the single-class state meet in 1959 (when the race was over 1.8 miles and his time was nine minutes and 21 seconds). Tina (Lang) Fenske finished fourth in 1993 and fifth in 1990 (as well as tenth in 1991).
She surpassed all their goals, said Carstens, who found joy in Keller's stellar run on Saturday, especially after the Dogs just missed a team state berth by finishing third at sections. (The Section 5A teams, Mora and Albany, finished 11th and 16th respectively at state.)
Carstens said he would have been happy had Keller finished 15th at state, overwhelmed to have her finish in the top eight, and was ecstatic to have her finish third.
Like all cross country champions, Keller is extremely dedicated, said Carstens. "She puts it all out there everyday in practice (without ever complaining)," he explained.
It's also refreshing to see a humble champion, he added of his soft-spoken star.
With the top two runners in Class A (Swenson and Richardson) graduating, Keller has the opportunity to set some big goals for next year, added Carstens, who is retiring after this school year from teaching and coaching, with Spanier expected to become the head cross country coach next year.
Carstens, in 34 years of cross country coaching, brought 11 teams to state, winning a boys' state title in 2000 and finishing as girls' runners-up in 2001; coached 14 runners who earned All State status 24 times; and was named Class A Coach of the Year twice, along with numerous sectional Coach of the Year honors.
Class A Individual Results
1. Nikki Swenson, LQPV 14:23.6
2. Claire Richardson, Blake 14:51.0
3. Linda Keller, Paynesville 15:00.2
4. Naomi Landecker, Staples-Motley 15:00.9
5. Lexi Jo Heitkamp, Luverne 15:05.7
6. Maddi McClellan, Perham 15:09.5
7. Morgan Lynn, Adrian 15:10.9
8. Katharine Chute, Blake 15:11.8
9. Marissa Janning, Watertown-Mayer 15:15.9
10. Laura Christensen, Murray County 15:18.6
11. Kaycee Knutson, Esko 15:22.6
12. Taylor Rather, Fairmont 15:26.9
13. Erica Thier, Adrian 15:28.9
14. Dani Stack, Mankato Loyola 15:30.2
15. Margaret Chute, Black 15:31.4
16. Kit Chambers, Providence Academy 15:32.2
17. Kelsey Torchia, Rochester Lourdes 15:34.2
18. Megan Henning, Adrian 15:35.8
19. Natasha Wenzel, Staples-Motley 15:36.8
20. Caty Delwiche, Glecoe-Silver Lake 15:36.8
21. Brittany Gigstead, Perham 15:37.9
22. Austyn Thier, Adrian 15:38.1
23. Amanda Shoonhoven, Pipestone 15:38.3
24. Leslie Stover, Adrian 15:38.5
25. Lauren Friese, Fairmont 15:40.8
(The Class A girls' race on Saturday at St. Olaf featured 151 runners in all.)
Team Scores
1. Adrian 60
2. Blake School 75
3. Rochester Lourdes 140
4. Perham 148
5. Staples-Motley 151
6. Lac Qui Parle Valley 161
7. Fairmont 180
8. Providence Academy 183
9. Mountain Lake/Butterfield-Odin 232
10. East Grand Forks 245
11. Mora 256
12. Esko 267
13. LaCrescent 283
14. Ely 296
15. Blue Earth Area 318
16. Albany 388