Oh, what a season!
This article submitted by Lynne Jacobson on 11/08/00.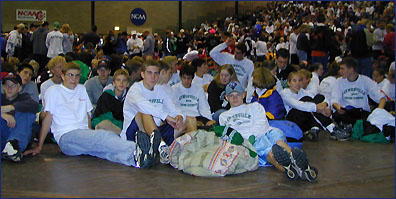 The Paynesville Area High School boys' cross country team season started optimistically and ended fulfilling that dream with a state championship in Class A. Jen Hess, who was ranked #1 all season in Class A girls, also fulfilled her goal with an individual state championship.

Paynesville runners waiting for the awards ceremony at Skoglund Auditorium, St. Olaf College, Northfield, last Saturday.

Clayton Lang placed sixth as an individual and Brooke Schmitz, a seventh grader, finished 25th. Both won all-state honors. Also winning all-state honors, which go to the top 25 finishers, were Adam Utsch who came in 19th and Dan Pearson who came in 22nd.

With a tradition of state teams and a great group of returning runners, things were looking bright at the beginning of the season. The boys team had been rated fourth in the state the previous year (1999) and with the loss of only one runner in Luke Trees, they had high goals.

The girls' team had more of a loss in the graduation of three great leaders, Carin Frenchick, Erin Aagesen, and Tiffany Rausch. The bright spot was to start the season with a two-time all-state runner and the #1 rated runner in the state, Jen Hess.

Coach Carstens was very enthusiastic throughout the summer as numerous runners were preparing to carry on the tradition of great distance runners. Many on the team attended the local cross country camp run by former all-state and all-American runner Joel Fenske. "I could see there was a great desire with this group as the season approached. They seemed to be on a mission," reflected Coach Carstens.

Leadership was a key ingredient to the possibility of a great season. Captains were chosen and were numerous as all five of the senior boys (Clayton Lang, Adam Utsch, Eric Korman, Ryan Flanders, and Travis Flanders) were named captains. The girls were led by Mellody Veldkamp, Mesa Frenchick, and Jen Hess.

"We had great leadership this year. Captains would shake hands with all the runners after a practice; everyone would show up to morning workouts when we were doing two a day practices, even junior high runners. It was a great group with a great positive view of the season," said Carstens.

Stability seems to be a key part of this successful sport in Paynesville. Coach Carstens has been here 28 years, assistant coach Rick Houske 21 years, and former all-state runner, Todd Spanier, returned to Paynesville this year and was a great asset to the staff. Carstens added, "Coach Houske and Coach Spanier were great this year and bring a great stability in the coaching preparation of the team."

Boys' season
The boys were quite dominant throughout the season winning eight invitationals and placing second in the world's largest meet (Princeton) to four-time defending champion Staples-Motley. The boys defeated Staples-Motley at the New London-Spicer Invitational, then lost to Staples-Motley at the section meet at Little Crow Country Club, but then defeated them at the state meet last weekend. Staples-Motley ended up placing third at the state meet behind Plainview.

The boys were ranked second throughout the season in the state rankings. They won the West Central North Conference title, the sub section title, and were second in the section meet, losing to Staples-Motley in a great race by only four points.

The boys' starting five (Clayton Lang, Adam Utsch, Dan Pearson, Jesse Rien, and Eric Korman) were named all conference, which is quite amazing due to the fact that the West Central North Conference produces great state teams every year.

Along with these achievements by the varsity, the junior varsity and junior high were also very successful and were showing great results, which continue to develop great runners for the future.

Girls' season
The girls started the season with injuries, but also a low turnout. This did not stop them from achieving great results by improving at each meet from the previous season. Young runners again were a key as they followed Jen Hess's example of hard work to achieve huge goals.

At the Long Prairie meet, the team took the first three spots with Brooke Schmitz and Kim Hess following Jen. The team took third in the conference and won the runner-up trophy at the sub section meet behind New London-Spicer who went on to win the section and the Class A state title.

Three girls (Jen Hess, Brooke Schmitz, and Kim Hess) were named all conference in the West Central North.

State achievements
The boys team advanced to state as the sixth team from Paynesville cross country to achieve this status. Previous state teams were boys in 1977, boys in 1990, boys and girls in 1991, boys in 1992, and boys in 1994.

Three individuals advanced to state this year, Jen Hess, Brooke Schmitz, and Clayton Lang. This is the highest total to accomplish this advancement since 1991 when Joel Fenske, Tina Lang, and Ross Bowden advanced to state. Paynesville has had many former state runners and many former all-state runners, a great tradition!

Brooke Schmitz, a seventh grader, is the youngest entrant Paynesville has ever had in the state tourney and was the highest finishing seventh grader in the state meet.

"We had had so many great runners in the past and they continue to always return and stop by at practices or to visit, commented Coach Carstens. "It is a great sport and offers so much. I always am greatly pleased to hear about a former runner, who is now coaching, still running at college, or independently road racing. Whenever I see them, they have great memories of their seasons at Paynesville. I feel this 2000 squad will be among this group and will someday remember the great days of Paynesville cross country."

2000 teams
"Anyone who would witness the cross country team at practices this year would see the great comaraderie among them," stated Coach Carstens. "The desire and leadership were very strong. The sport would seem to many as one of hard work, but the team always mentions how much fun it is to be a part of the sport at Paynesville. A lot of fun activities are a part of Paynesville's two a day team practices along with donuts, tag, capture the flag, and other fun runs."

The team members for 2000 were: Ryan Flanders, Travis Flanders, Eric Korman, Clayton Lang, Adam Utsch, Mellody Veldkamp, Mesa Frenchick, Jen Hess, Dan Pearson, Jesse Rien, Scott Thompson, Andrew Jones, Riley Flanders, Tom Flannigan, Danielle Lieser, Fred Stock, Bridgette Johnson, Trisha Wendlandt, Kim Hess, Chris Utsch, Matt Mehr, Jason Wendroth, Brooke Schmitz, and manager Cody Wiig.

Coach Carstens' comment at the welcome home Sunday night summed it all up. "It was a great, great year with great, great kids!"
---