Community welcomed home the champions
This article submitted by Lynne Jacobson on 11/08/00.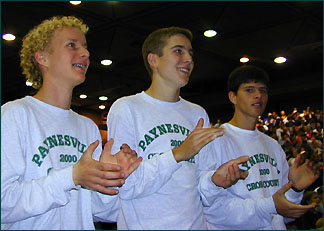 A welcome home for the championship cross country runners was held at the high school Sunday night. A crowd of well-wishers enthusiastically cheered the championship boys' team, state champion Jen Hess, and Brooke Schmitz on their great performance at the state meet on Saturday.

Pictured are Ryan Flanders, Eric Korman, and Adam Utsch.

Athletic director Matt Dickhausen welcomed the people and then turned the microphone over to Pat Flanders. Flanders, the father of two cross country runners, was the master of ceremonies telling stories about the state meet.

He started with a story about Jen Hess and trying to get her to smile before her race. She managed the smile, then remarked "I'd rather be any place than here." Nonetheless Hess went out and won the race.

As Flanders introduced each of the other state runners, he made a comment including how seventh grader Brooke Schmitz, who placed 25th and earned all-state honors, kept focused; how Ryan Flanders and Travis Flanders are the best sixth and seventh runners in the state; Eric Korman is a steady and consistent runner; Jesse Rien, who in his first year out for cross country, was the third or fourth runner for the team; Dan Pearson never quits and is always happy; Adam Utsch, who as the number two runner all year, fulfilled a dream he has had of being a cross country runner ever since he was a little boy; and Clayton Lang, who is the number one runner for the boys, placed sixth in state as an individual.

In introducing head coach Darrel Carstens, who has coached the cross country program in Paynesville for 28 years, Flanders mentioned Carstens has never had one runner ineligible scholastically or for alcohol or drug abuse.

The state meet was a fantastic day for running, stated Carstens in his opening comments. Later in the program when Jen Hess was given the microphone for a few words, she remembered when it was below freezing and the wind was blowing, Carstens would still say it's a great day for running.

Carstens had told the boys in their prerace huddle to just "Do your best." Then as he watched at the first turn, there was not a single Paynesville runner in the top 25. By the next viewing spot, all seven runners had moved up and there were three in the top ten. All the Paynesville runners looked relaxed and confident.

Carstens could see our runners were ahead of the Staples-Motley runners, now he had to start thinking about Plainview.

Assistant coach Rick Houske gave five reasons why the boys won the state title:
1. Assistant coach Todd Spanier was not wearing purple or pink.

2. Houske hadn't worn his cowboy boots to a meet all year.

3. Houske had is hair cut.

4. Coach Carstens had worn a cap with a fishing lure on it to every meet.

5. There was a fourth coach with them - Bill Ochs who has passed away.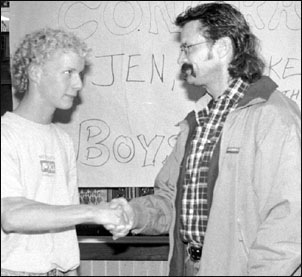 Houske remembered Jen Hess' first race and her saying afterwards "That's it. This is a crazy sport. I'm never doing this again." On Saturday as Houske met her at the end of the race, she said "Did I really win or am I dreaming."
Each of the runners had an opportunity to speak and most thanked the coaches, the other runners, parents, and fans. Ryan Flanders added he was floating on air and these are the best memories of the last six years. Most thought it was an experience of a lifetime. Several of them spoke about the camaraderie between the team members and the leadership of Jen and Clayton.
Carstens also spoke about the tradition of cross country and acknowledged former runners in the audience. The first team to go to state was in 1977 and they placed ninth. Six teams have gone to state in the 90s, but this is the first championship team.
A special presentation by senior Ryan Flanders (presenting the honorary medal to Bill's son, Jim)
brought tears to most of the audience. When the five seniors on this team were junior high runners, Bill Ochs was helping with the coaching. At the banquet that year Ochs predicted these boys would win the state tournament some day. In memory of Bill Ochs who has since passed away, a state medal was presented to his son, Jim.
In accepting the medal, Jim recounted how his dad, when he knew he was dying, said he had two regrets in life and one was that he wouldn't see his boys win the state meet. All agreed Bill Ochs was smiling on Saturday. The evening ended with Amy Flanders showing a video taken at the section meet in New London-Spicer on Oct. 26.
---