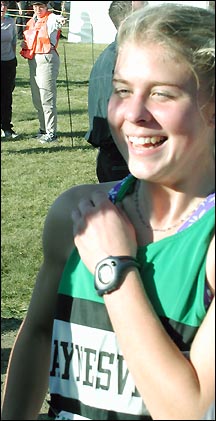 The only opponent that got the better of Jen Hess on Saturday at the state cross country meet in Northfield was her unceasing, perpetual nemesis: time.

Jen with her watch! Read story below to find out the watch's significance.

Hess capped her career in grand fashion, helping her team to a runner-up finish and winning the Class A individual title for the second straight year. In doing so, she joined august company in Minnesota cross country history, becoming the 10th female and the 22nd runner to record back-to-back state titles.

But Hess - who won 30 of the last 33 races in her high school cross country career, including 21 of 22 during her junior and senior years - was not completely satisfied. "Right away when I crossed the finish line, I was happy, but I knew I hadn't run as fast as I wanted," she explained.

Hess won the 4,000-meter race in 14 minutes 56.3 seconds, a half second slower than her winning time over the same course last year. She won the state title each time by a margin of ten seconds, covering the course at an average speed of 10 miles per hour, but Hess's goal this year was to run a time closer to 14 minutes 30 seconds.

Hess, the daughter of Dave and Barb Hess, always runs against the clock, whether she's running sprints with the cross country team, doing extra long-distance running on her own in the countryside around Lake Henry, or dominating the competition in meets. She figures running against the clock will help her next year, when she plans to compete in cross country and track at the Division I level, though she hasn't decided where, yet.

"I'm competing against myself, rather than other people," she said of her obsession with running good times. "I think that's a good trait to have because when I run in college I won't be winning. I'll be more in the middle of the pack, and it'll be a good way to judge myself."

Division I offers
Hess has received information from colleges since she placed 10th in the 1,600-meter run in state as an eighth grader and 24th in the state in cross country as a ninth grader, both in 1998. "I think they pull (the names) off the Internet after the state meet," explained her mother.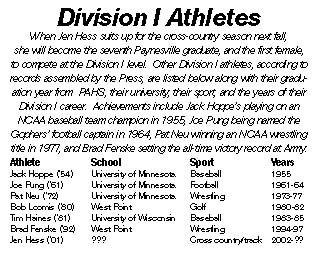 Since then, Jen has added six top-three finishes in long-distance runs in track and three in cross country, including Saturday's effort, and the mail has kept coming and piling up.
College coaches can't contact potential recruits until July before their senior year. The first recruiting call Jen received was from Michigan State, a school still actively recruiting her, along with Minnesota, Tennessee, Vanderbilt, and Duke.
Hess said she wasn't prepared to deal with recruiting calls right away. Coaches deluged her with information about their school and wanted detailed information from Hess about her times, her list of potential schools, her test scores, her grades, and her planned major in college.
She's gotten better, though, at handling the process, as evidenced by more recent recruiting calls. "Okay, I'm getting pretty good at this," she said to herself after a recent call, "because I asked the questions I wanted. They didn't get to talk."
She gets a couple phone calls a week and also keeps in contact with coaches by e-mail.
Actually, Hess has been impressed by the more easy-going sale's pitches of Division II coaches, but she plans to try running cross country and track at the Division I level. The Division I coaches are more to the point and high-pressured, she said. "If you're not going to go to their school, they're not going to waste their time on you," she explained.
Hess made her only official visit, so far, to the University of Minnesota over Homecoming weekend in September. The 48-hour visit - as required by NCAA rules -Ęstarted on Friday morning with a tour of the campus and the sports facilities with her parents and ended on Sunday morning when her parents picked her up again.
The school made use of the hours between, taking Hess to a cross country meet, a swim meet, a volleyball match, the Homecoming parade, and the football game against, ironically, Michigan State at the Metrodome. Hess stayed one night in the dorm and another night in an apartment and had time to work out with another running recruit from North Dakota.
A scholarship offer from the U of M is expected when the early signing period for national letters of intents starts on Saturday, Nov. 17. The offer will be good for two weeks, but Hess doesn't expect to sign, even though she's leaning towards the U of M. She plans to make an expenses-paid recruiting trip to Michigan State in December and to consider her options.
Hess said she likes the coaches and the runners at the U of M, many of whom also hail from Minnesota. The U of M is also closer to home and would provide better opportunities for her family and friends to watch her run.
The make-up of the team is also a concern to Jen, who wants to compete wherever she goes. Only the top seven runners get to compete in the Big Ten meet, and Hess wouldn't want to have to stay home.
In college, women run 6,000-meter courses, or 50 percent farther than Minnesota high school girls run. Hess figures the extra distance will help her, as her strength has always been based more on her stamina than her blazing speed.
Academics will also be an important deciding factor for the straight-A student. As yet, she's undecided about her major, considering a range of subjects from pre-med to English and child psychology.
"She has to know," said her mother Barb. "It's her decision."
Well-rounded student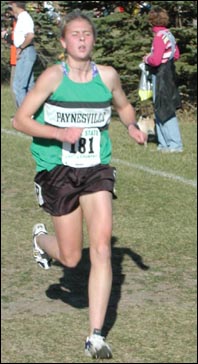 Hess' athletic record speaks for itself in the minds of her high school coaches. With one track season left, she has been all-state ten times and earned nine state medals. The best wrestlers in school history have advanced to state individually only four times and have placed only three. Hess has made eight state trips so far, with another this spring in tract seemingly certain.
She is the second female athlete at PAHS to win a state title, joining Tiffany Karsch, who won the high jump in 1993, and the first to win back-to-back titles. The only other Bulldog athlete to win back-to-back state titles was David Kerzman, who won two in wrestling.
What Hess' coaches really rave about is her scholastic ability, her leadership skills, her work ethic, and her down-to-earth manner. She is the 22nd Minnesota high school runner to earn back-to-back high school title, which fails to register even a hint of bravado in her. "No big deal," she says modestly.
Assistant coach Rick Houske remembers Hess as a quiet, but extremely bright, fifth grader, saying she was one of the best students he's ever had. "She always prepared herself, even then," he said.
At the welcome home, he flashed some book cards, short book reports done by sixth graders at the middle school. This year, Houske having moved to the middle school to teach sixth grade, asked another teacher to give him book cards as examples of the best ones: three of the ten examples were by Jen.
Jen is the student council president at PAHS, a member of the choir, the marching band colorguard, and she tutors middle school students and serves as a PALS role model.
"What makes her one in a million is her athletic ability and her scholastic ability," Houske said. "What makes her one in ten million is she doesn't act like she's one in a million."
Team leader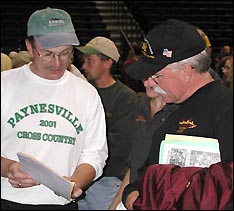 This year, for the first time, the girls' team had success that rivaled Jen's individual performance, taking second place in state, the highest finish ever by a Paynesville girls' team. "I couldn't have asked for a better team," she said. "I still can't believe what we did."
Darrel Carstens (left) has been Hess' coach since seventh grade. Her next coach could be Gary Wilson of the University of Minnesota (right).
Hess' teammates include her younger sister, Kim, a ninth grader who is a cross country standout in her own right. Kim has earned All Conference honors for three years and this year advanced to state individually by placing sixth at sections.
"I liked it better," Jen said about the team's success and having all her teammates to run with at state. "It took my mind off my race."
The pre-race team huddle is a lot more fun with the whole team instead of just with the coaches, she continued with a laugh. "It was worth the wait," she added.
Hess' first-place finishes add only a point to the team score, meaning the Bulldogs effectively count four scores instead of five, but her contributions to the team goes far beyond her stellar running and results, according to her coaches.
"She leads by example," said head coach Darrel Carstens. "She works so hard. She's always positive."
Her impact on the team was especially important this year, when the team had five first-year runners. "They see what it takes watching her," explained Carstens. "It will make them better in the future by watching her."
She's also a gem of a person, he added, pointing out that she was always around the chute to congratulate other runners, even in the junior high races. After the state meet, Hess hurried away from a media interview with a daily newspaper to check on Kim after the race. Hess, for her part, thinks she's been blessed with the best coach in the world in Carstens and great teammates, from her current team to the members of last year's boys' championship team, who included Hess in their training runs.
Her cross country friends have made the sport enjoyable for her at all times. "It's easier to do when they're people who you look forward to being with," she explained. "I always look forward to practice. It's the highlight of my day, even if the weather is bad."
First race
Jen's love for the sport wasn't always so clear. After playing volleyball in seventh grade, Hess joined track in the spring and discovered her talent for running. When she joined cross country in the fall of her eighth-grade year, her first meet was almost her last.
Houske recalled greeting Hess in the finish-line chute that day, seeing her hate-filled eyes and hearing her declare: "I'm never running again, and you can't make me."
"It was so hot that day," Jen recalls with laughter now. "I was so weak-minded. I was better the next day."

One of the first times she trained on her own (in the summer before that first cross country season), she ran a mile and a half from her house, a mere warm-up for her today. She didn't trust herself to make it then, though, and had her mother bike with her. "It was hot," she explained, "and I wasn't in very good shape."
To say that Jen's training regime has intensified since then is a massive understatement.
Remember how proud you were the first time you beat your mom or dad in an athletic event - whether it was a game of HORSE, a game of pool, or even a game of Go Fish.
Jen does, only she was running and her dad was biking. "I remember the first time (dad) rode bike with me and he couldn't keep up," she said with a wide smile. Though she admits the poor condition of the bicycle was largely at fault, she still says: "That was awesome."
Hess has run around a certain six-mile block of roads outside of Lake Henry too many times to count. She knows all the dogs on the route, and farmers in the field recognize her. Putting on at least 40 miles a week out of season and more during the season makes it easy for her parents to not accompany her anymore, even on a better bike. "It was different when you ran four miles," said Barb. "Now you run 13. We're not going to bike that."
Jen lifts weights, does sets of sit-ups, and runs all year. Getting tangled with a teammate on the track, falling, and cutting one's leg would be enough for most runners to call it a day. Not Jen. Back in junior high, she cleaned up her leg and finished the workout. "She's deserved everything she's gotten," added Barb. "She's worked hard."
On Sunday, following her victory at state, she celebrated by taking a morning run around Lake Koronis. She claims she did more talking than hard running with Clayton Lang, an all-state runner for PAHS last year who now runs at South Dakota State, and junior Riley Flanders, but they still covered the 13 miles around the lake in 90 minutes, averaging seven-minute miles.
The watch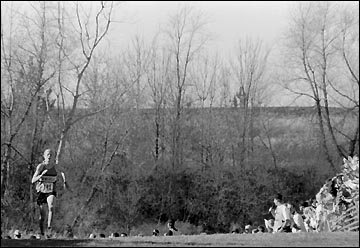 Jen can run at such a steady pace that she can actually calculate her distance based on her time. She's been wearing a watch for years to time herself while running. She also uses the watch to make sure she runs a certain pace during interval work (i.e. running sets of shorter sprints, like 100-meter, 200-meter, or 400-meter dashes).
Jen out ahead of other runners at St. Olaf College, Northfield.
"She uses her watch for everything," complains Kim, who wears a watch herself to time her running, but somehow thinks that her sister's watch is the devil.
The sisters wear similar watches, but their watches seem to run at different speeds. When they're resting, Jen's watch runs fast and she's always ready to start again, while her teammates would prefer a little extra rest. Jen used to have her watch set to beep when the allotted recovery time between sprints was up, but has turned the beeper off to avoid the ire of her teammates. "They hate the watch," Jen admits.
"She's always the first one to take off running," said Carstens of his two-year captain, who abides by the practice schedule so diligently that he doesn't really need to supervise the team.
Jen wears her watch so constantly, in fact, that when she took it off during Homecoming Week (because Jen was a queen candidate) she forgot to put it back on. This drove her mad at the next practice, when she didn't have it to keep track of the time and her sister wouldn't borrow Jen hers. Kim is more liberal about the time between sprints. When it's her turn to keep the time in practice, she always lies a little, she admits.
When they're running, Jen's watch never runs fast and never lets them get done early. "If we do a 20-minute run, we run for 20 minutes," said Jen simply. The Hess sisters have been known to argue how much time is left in a 20-minute run, with Kim arguing that they've run for, say, 11 minutes and Jen insisting that it's only been eight.
With her watch, Jen makes them run longer and with fewer breaks.
Jen always runs fast, too, Kim complains. "Jogging," she said with emphasis. "We're supposed to be jogging."
The girls also differ in their training routines. Jen runs more miles than Kim. While only slightly more during cross country season - perhaps an extra ten miles per week - she runs lots more during the offseason. Jen still runs 40 miles or more per week in the summer, which might be her sister's total for the entire summer.
"They're definitely different people, but that's good," said their mother. "We wouldn't want them to be exactly alike."
Kim calls early Sunday morning jogs around Lake Koronis junk miles. She would sleep.
Jen thinks that Kim could probably beat her times and have the same success in cross country if she would strengthen her training regime and maybe eliminate some trips to the refrigerator for sweets.
"Kim is more dedicated to basketball and softball, and Jen is more dedicated to cross country and track," explained Barb.
Whatever the differences, the bond between the sisters is evident. Houske cited Kim's asking Jen for help with her math during a cross country trip as evidence.
The bond was plainly visible for all to see at the welcome home for the cross country team on Sunday night. First, Kim embarrassed her older sister by telling the audience how Jen had dropped her ring in a toilet at the state meet. But, when it was time to acknowledge the greatest runner, the most decorated athlete, and the most dedicated athlete in school history, Kim choked up, and spoke for everyone with the simple words: I'll miss you buddy.
Jen plans on being a runner for her entire life, but she might not always be a racer. "I think when I look back on high school what I'm going to miss most is cross country," she predicted on Sunday night. "It's where my best memories are."
---
Contact the author at paypress@lkdllink.net • Return to Sports
Home | Marketplace | Community
---