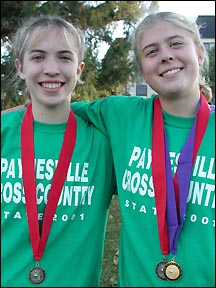 Senior Jen Hess (right) capped her high school cross country career with a second consecutive state title on Saturday in Northfield. Hess won the 4,000-meter Class A girls' race on the St. Olaf College campus, avenging her only loss of the last two years to Lauren Brueberg of Minnehaha Academy in the process.

Hess' victory gave her all-state honors in cross country for the fourth straight year, a new school record. Hess finished 24th as a ninth grader, third as a sophomore, and first as a junior and senior.

Eighth grader Brooke Schmitz (left) also earned all-state honors for the Bulldogs, placing 17th overall. Schmitz repeated as an all-state performer, too. (She placed 25th last year as a seventh grader).

Hess' main competition figured to be Brueberg, a junior who had beat Hess at the Princeton Invite in September and jumped to the top of the state rankings as a result. Brueberg got off to a hot start, maybe too hot, getting out of the gate to lead by 10 meters after the first 800 meters of the race.

Hess had closed the gap by the time they reached the far end of the course, which circles a pond in the woods. "I was just going to stay on her shoulder the entire time and then I thought, 'Why don't I pass her?' So I did," said Hess.

By the time they reached the steep hill on the far side of the pond, roughly 1,500 meters into the race, Hess had passed Brueberg, who handed Hess her only loss in the past two seasons in September.

Halfway through the race, Hess had pushed her lead to 20 meters and Brueberg had no chance. The Minnehaha junior faded to eighth.

Coach Darrel Carstens said Hess ran an incredibly smart race, resisting her natural inclination to run in the front from the start. "She's a born leader," he said of his two-year captain. "She wants to lead."

Instead Hess let Brueberg expend too much energy before taking control of the race. "When (Jen) made her move, it was so strong that Brueberg couldn't go with her," Carstens explained.

Hess built a ten-second advantage over the second half of the race and headed into the homestretch alone, winning with a time of 14:56.3, a mere half second off her winning time of a year ago.

"My goal was a lot faster, but I'll take it. I'm not going to complain," said Hess, the daughter of Dave and Barb Hess of Lake Henry, who is being recruited by several Division I schools, including the University of Minnesota.

Hess became the 10th female and 22nd high school runner to win back-to-back cross country titles in Minnesota. Cross country has been a high school sport for boys since 1943 and for girls since 1975.

Only one runner has won more state cross country titles than Hess: Carrie Tollefson of Dawson-Boyd/Lac Qui Parle Valley, who won five state titles between 1990 and 1994, starting as an eighth grader.

Hess also became the second Bulldog athlete to win back-to-back state titles, joining David Kerzman of the wrestling team, who won titles in 2000 and 2001 as well.

Schmitz, in her second state appearance, relied on her teammates to ease her nerves and relax.

"Last year, I was so nervous. This year I tried to have fun," explained Schmitz, the daughter of Jim and Brenda Schmitz.

"I just tried to stay confident and have lots of fun with the girls this year," she added, "and not concentrate on the race."

Schmitz started the year in great form, dueling with Albany's Rachel Stangler, who finished seventh on Saturday, during the team's second meet. In recent meets, though, she had alternated with ninth grader Kim Hess as the Bulldogs' second runner. Hess earned an individual entry to the state meet by placing sixth at sections, but Schmitz advanced with the team and used the opportunity to earn all-state honors again.

"That's her best race of the year," said Carstens. "She was relaxed and strong."

Schmitz said her simple strategy was to not let people pass her. She had enough left at the end of the 4,000-meter race to pass some runners in the homestretch.

The cross country run, like always, did not come without some suffering on the course, said Schmitz "During the race...gosh, it hurts, but once I hit the finish line I love it," she said.

Section 5A produced six all-state runners: Hess, Stangler, Schmitz, Emma Bahe of St. Cloud Cathedral (21st), Jamie Talberg of Pierz (22nd), and Beth Tacl of Cathedral (25th).

The West Central Conference North produced seven all-state runners: Hess, Stangler, Schmitz, Bahe, and Tacl, plus Nikki Umhoefer and Caitlin Deters, both of Sauk Centre, who were 14th and 15th respectively.
---
Contact the author at paypress@lkdllink.net • Return to Sports
Home | Marketplace | Community
---