A thrilling volleyball contest between Paynesville and Belgrade-Brooten-Elrosa ended the Bulldogs' season on Tuesday, Oct. 29. Top-seeded BBE survived in five sets in the subsection semifinal and defeated the Dogs, who ended their season with an 8-13 record overall.

The first set against BBE had great rallies, and both teams played very well with hard hits and great digs. The game was tied at 6-6 when BBE scored the eight of the next ten points and took a 14-8 lead and then won the set 15-10.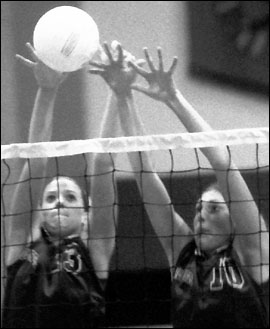 In the second set, the Bulldogs were out of synch compared to the first set. They often managed just to get the ball over the net with few hits. The Jaguars took the lead with five quick points, led 5-0, 9-1, and 13-2, and were never in danger of losing the set, winning 15-4.
Junior Jessie Virant and senior Mindy Meagher leap and attempt to block a Jaguars hit during the Dogs' season-ending loss to top-seeded BBE in the subsectional semifinals last Tuesday.
In the third set, with Paynesville trailing 8-5, senior Mindy Meagher served four consecutive points to give the Dogs a 9-8 lead. They added another point before BBE scored five straight points to lead 13-10.
At this point, it appeared that the Jaguars were going to sweep the match. Their fans started chanting: "Good luck, next year!" But the Bulldogs rallied to tie the score at 13-13, which prompted the fans from both sides in the packed gymnasium in Grove City to stand and cheer for their team.
BBE took a 14-13 lead, but Paynesville saved a match point with a side out, and then scored three points to win the third set 16-14. Junior Jessie Virant scored one point with an ace block.
The momentum stayed on Paynesville's side in the third set, with the Bulldogs taking a quick 5-2 lead. Then junior Amanda Glenz served seven points, building the lead to 12-2. BBE struggled during this run, letting balls drop and appearing to feel the pressure as the top seed, as what had looked like an easy win became, literally, a dog fight.
BBE rallied to cut Paynesville's lead to 12-10, and Glenz served the final two points as the Bulldogs won 15-12, forcing a decisive fifth set, and prompting Paynesville fans to cheer: "Overrated!" at BBE.
BBE came out strong and took a 4-0 lead in the decisive fifth set, but Paynesville rallied to cut the deficit to 5-4, with Glenz getting another ace block and sophomore Kendra Johnson serving an ace. Both teams continued to play very well, but BBE built a 9-4 lead. Jaguars junior Tina Lensing needed three blocks on one play to earn a single point.
Sophomore Brittany Lieser served two points, with Meagher getting two kills, to cut the BBE lead to 9-6. Five points out of the next six points went to BBE with Glenz having two kills for side outs.
At 14-8, BBE thought they had won the match, thinking the ball had bounced, but Lieser kept the ball alive and a bump across the net by senior Morgan Martinson fell for a winner as the BBE players had already started celebrating.
Soon, though, they celebrated for real, winning 15-9.
The Bulldogs never gave up. They were disappointed about losing and their season being over, but they weren't disappointed about the way they played the last three sets.
BBE beat Sauk Centre for the subsection title in four sets and advanced to the section final before losing to MACCRAY.
| | | | | | |
| --- | --- | --- | --- | --- | --- |
| Paynesville-- | 10 | 4 | 16 | 15 | 9 |
| BBE-- | 15 | 15 | 14 | 12 | 15 |
Individual Statistics
Hitting: Amanda Glenz 46/53 - 14A; Morgan Martinson 34/39 - 11A; Mindy Meagher 54/57 - 8A;
Serving: Meagher 19/19 - 3A; Glenz 19/19 - 1A; Amy Roberg 19/21 - 2A;
Blocks: Glenz 6A; Meagher 3A;
Assists: Roberg 92/96 - 23A; Kendra Johnson 75/80 - 13A;
Digs: Martinson 105/120; Meagher 34/44.
Banquet
The volleyball team held its end-of-the-season banquet on Monday, Nov. 4. Seniors Morgan Martinson and Mindy Meagher earned All Conference honors in the West Central Conference North. Junior Jessie Virant was given a team award for Most Inspirational.
---
Contact the author at editor@paynesvillepress.com • Return to Sports
Home | Marketplace | Community
---