Eighth grader Kacy Nehowig capped her season by earning All State honors on Saturday at the state cross country meet at St. Olaf College in Northfield.

The state cross country meet is divided into four races: girls and boys in Class A and girls and boys in Class AA. The top 25 individual finishers in each race earn All State honors.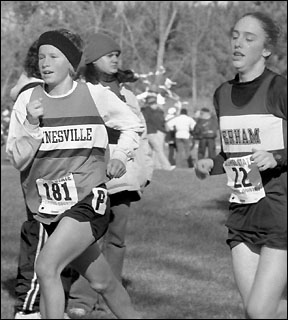 Nehowig, the daughter of Kyle and Deb Nehowig, finished 18th overall in a time of 15:59. She actually had higher expectations for herself entering the state meet, with her goal being to finish in the top eight and earn an individual medal.
Eighth grader Kac Nehowig (181) earned All State Honors on Saturday by placing 18th overall in the Class A girls' race.
"I was kind of disappointed," she said. "I should have been in the top eight."
Nehowig is in her second year on the team, earning All Conference honors each year. She placed in the top five at nine of 11 races this year. She got her first individual victory in a varsity race at home at the Koronis Invitational in September. In her last four races before state, she had taken first once, second twice, and third once.
She and teammate Brooke Schmitz - who earned All State honors individually in 2000 and 2001 - both qualified for state individually this year by placing in the top ten at sections. (Schmitz placed 34th overall this year.)
It is the eighth time in the past three years that a Paynesville runner (boys and girls) has earned All State honors. Five earned All State honors in 2000 (Jen Hess, Clayton Lang, Dan Pearson, Schmitz, and Adam Utsch); two in 2001 (Hess and Schmitz); and Nehowig in 2002.
Nehowig said she started the race on Saturday morning just like she wanted: getting out with the leaders and trying to avoid the crowds. But her legs didn't feel loose until she reached the back stretch, possibly on account of the morning start and the cooler weather. "It was different," she said. "I'd much rather run in the middle of the day."
While disappointed, she said, "You have to look at the good things, too. There's next year, too. We need to train harder."
She not only plans to train harder next year, but she plans to approach the state meet differently. As a seventh grader (when she finished 52nd overall) she was really nervous, she said. This year, she was still nervous. Next year, she plans to treat it just as another race, she said.
---
Contact the author at editor@paynesvillepress.com • Return to Sports
Home | Marketplace | Community
---