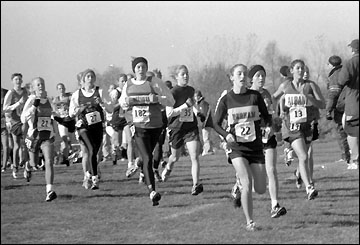 The Paynesville girls' cross country team finished ninth in Class A at the state cross country meet at St. Olaf College in Northfield on Saturday morning.

"We didn't run like we were capable of," said eighth grader Kacy Nehowig, who was the top finisher for Paynesville, earning All State honors by placing 18th overall. "We are such a young team that I think we were nervous."

Ninth grader Brooke Schmitz (182) and eighth grader Kacy Nehowig (181, partially hidden) sprinted to the front of the pack during the early stages of the Class A girls' cross country race on Saturday.

"It was kind of an off day for all of us," agreed ninth grader Brooke Schmitz, who earned All State honors the last two years by finishing in the top 25 at state, but finished 34th overall on Saturday "We didn't get the performance we wanted."

The Bulldogs made their second consecutive appearance at the state tournament, finishing second in 2001. But this year's team had only four runners back from last year's team, and nine of the team's ten runners are in grades 7-9, with only one senior, captain Nicole Flint.

Paynesville was ranked sixth in Class A by the last state poll and finishing fifth or sixth was realistic, said coach Darrel Carstens, who has taken nine cross country teams to state. "If we would have run the way we ran at the section meet, we would have finished in the top five," said Carstens. "But we didn't run like we did at sections."

This year, because the section was so competitive, Carstens geared the team's training for a peak performance at the Section 5A meet, which the Bulldogs won. That was their only meet victory of the year, and they edged rival St. Cloud Cathedral, who took fifth at state on Saturday.

Saturday morning was sunny but cool at Northfield, and the weather, the early start (10 a.m.), and nerves may have affected the team. Carstens noticed that the team ran tight.

In fact, none of the seven varsity runners matched their times from the section meet, with most needing almost a minute longer on Sunday.

Part of that may have been due to a longer course. The finish line of the course was changed this year, and coaches estimated that the switch added between 180 and 200 meters to the 4,000-meter girls' course.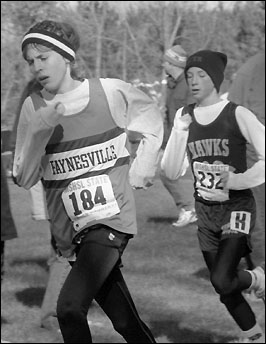 Had the team run as well as it did at sections, a top three finish would have been possible. "Naturally, you hope to get on the platform," said Carstens, referring to the awards ceremony following the race, where the top three teams are given a trophy and medals.
Seventh grader Brittni Schmitz, running at state for the first time, covered the course in 17:28.
New London-Spicer won the Class A girls' race, winning their third straight state title. Staples-Motley was second.
Nehowig led Paynesville by placing 18th overall. Schmitz was next in 34th.
Eighth grader Tanis Beireis ran well, covering the longer course in less time than last year and finishing ten spots higher. She finished 63rd overall and was the Dogs' third runner.
Seventh grader Brittni Schmitz, senior Nicole Flint, and seventh grader Kaitlyn Frenchick finished within ten spots of each other. Schmitz was 108th, Flint 114th, and Frenchick 117th.
Ninth grader Sheena Hoekstra finished 145th overall for the Dogs. The team was immediately disappointed in their performance but recovered quickly, said Carstens. With the team mainly comprised of seventh, eighth, and ninth graders, the team can look forward to future seasons.
Finishing in the top ten at the state is always a successful season, said Carstens, who stated that he was extremely proud of his team. "We have great kids," he said.
"You have to look at the good things, too," said Nehowig. "There's next year, too. We need to train harder."
"It was great that we went to state," added Schmitz. "That's an accomplishment in itself."
Unless you win state, you could always do better, even at a state meet, noted Carstens. "Every year, except 2000 (when the boys' team won the Class A state title) I've wanted to do a little better," said Carstens.
Below: Eighth grader Tanis Beiereis (183) sprints to the finish at the end of the Class A girls' race. She finished 63rd and was one of two Paynesville runners to place better in 2002 than in 2001.
Team Scores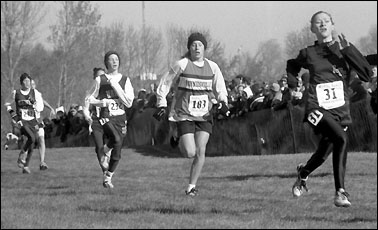 1. New London-Spicer 109
2. Staples-Motley 118
3. United South Central 152
4. Canby/Minneota/Lincoln 164
5. St. Cloud Cathedral 172
6. Minnehaha Academy 190
7. Hermantown 195
8. Mesabi East 201
9. Paynesville 207
10. Winona Cotter 232
11. Lake City 246
12. Luverne 248
13. East Grand Forks 266
14. Visitation 268
15. Minnesota Valley Lutheran 286
16. Northland/Deer River 379
Individual Results
18. Kacy Nehowig (8*) 15:59
34. Brooke Schmitz (17*) 16:19
63. Tanis Beireis (35*) 16:42
108. Brittni Schmitz (71*) 17:28
114. Nicole Flint (76*) 17:36
117. Kaitlyn Frenchick (78*) 17:40
145. Sheena Hoekstra (104*) 18:58
*This is their placing for the team scoring, which does not include the individual state entrants.
---
Contact the author at editor@paynesvillepress.com • Return to Sports
Home | Marketplace | Community
---