Muzzleloaders have drawn local men together
This article submitted by Linda Stelling on 11/4/97.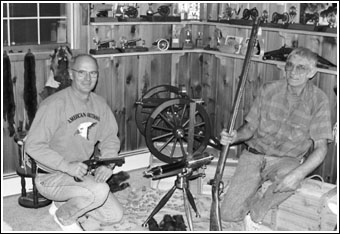 Their love of building things and hunting have drawn Leo Louis, left, and LeRoy Notch, right, both of rural Paynesville, together to shoot muzzleloaders.
A muzzleloader is a rifle or pistol that doesn't use a cartridge, but blackpowder (sulfer, saltpeter and charcoal), and is loaded through the muzzle. Without a contained shell cartridge, everything is loaded separately.
Notch started making guns 40 years ago and specializes in muzzleloaders. "I have been building things as long as I can remember," Notch said. "When I was a kid, I couldn't afford toys, so that's when my building started."
When asked what attracted him to muzzleloaders, Notch said he loves antiques, especially guns. "I enjoy building them, as well," he added.
Leo Louis is a newcomer to muzzleloaders, compared to Notch. He has only been shooting muzzleloaders five or six years. "As a kid I always wanted to learn about muzzleloaders, but didn't know who to talk with. There are very few people who know the operation of black powder," Louis said. "Tom Scheierl got me started."
Louis explained when you work with black powder you don't rush the procedure or steps required to load the gun. "A person needs to clean the gun after every use if you want to be accurate," he added.
The steps that need to be taken to load a muzzleloader include measuring the powder out accurately, placing it in the barrel, popping a wad into the barrel, inserting a ball into the barrel, ramming everything down the barrel, and loading a cap. You then find a target and shoot.
"A person can shoot at a variety of things. A big problem for many people is that they are afraid to shoot a muzzleloader, thinking it has a lot of kick. They don't, especially when you don't use a full charge," Louis emphasized. If you want a kick, you need to use a full charge and that doesn't happen very often. They also don't make a loud noise, just a soft boom.
Both men have attended rendevous and find them relaxing. Rendevous is French for gathering. It is a meeting point for black powder/muzzleloader enthusiasts. "You don't stand in line, waiting for your turn. When there is an opening, you step up and shoot," Notch said. "Then you step back to reload and let someone else up to the line."
When shooting at a rendevous, they shoot at playing cards, splitting them edgewise at 25 yards, and shoot at apples or poker chips. At 50 yards, they shoot at paper targets or rabbits and bears. At 100 yards, the targets are larger paper rabbits or bears.
Notch said the muzzleloader is the most accurate gun he has used. "When shooting from distances of 25 to 50 yards, they are more accurate than expected." Notch has a room full of trophies he has won at black powder competitions.
"There is a lot of history behind black powder," Notch said. "The percussion cap came into being about 1860 and was used at the start of the Civil War. A good marksman could load and shoot three rounds in a minute," Notch said.
"By 1862 the bridge loaders were invented and used. The Civil War brought about big changes in armament," Notch added. Last year, Notch switched from making muzzleloaders to attempting to build his first Gatling gun. It took him five months to build the gun.
Notch explained Dr. Gatling invented the gun in 1862. It took him six months to build the first model. According to Notch, Gatling built the gun because he disliked killing. He thought if he built something so destructive people would be afraid to fight.
A Gatling gun is an obsolete machine gun with a number of barrels arranged cylindrically, which are fired successively when rotated by means of a crank.
"I have always been fascinated by Gatling guns. A year or so ago my son, Paul, found one in a sport shop where he lives in Seattle. When I was there visiting for Christmas, he took me to see the gun," Notch said.
Prior to going to Seattle, Notch had sent for blueprints for a Gatling gun and had already started to build his own. But after seeing the gun, he returned to Paynesville, thought about it for a few days, then called his son to buy the gun and ship it to him.
Notch has used the gun from Seattle as a model and has since built five others. "The gun was kind of crude and I made a few improvements," he said.
"The Gatling gun is very effective up to 1,500 yards and can shoot up to 500 rounds a minute," Notch said. A Gatling gun holds a large chamber of shells, allowing for continuous firing.
Display of guns...
Louis and Notch will have their muzzleloaders and Gatling guns on display at the Community First National Bank for the next week or two to promote their muzzleloading club.
An informational meeting about the club will be held on Monday, Nov. 17, at the Notch home at 30122 Conita Circle, southwest of the golf course on Highway 23, at 8 p.m. Anyone wanting more information can call Notch at 243-4610.
Notch will be talking about Gatling guns on Tuesday, Nov. 18, at 7 p.m. the annual meeting of the Paynesville Historical Society.
---