Girls play volleyball with SCSU players
This article submitted by Linda Stelling on 11/4/97.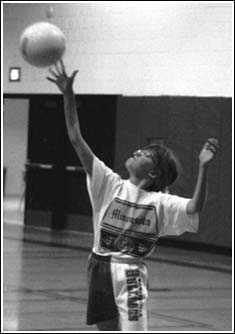 For the past five weeks, a group of 27 fifth and sixth grade girls have met to learn more about volleyball.
The would be volleyball players learned volleyball skills and had fun in the process, under the direction of Sarah Winter and Sheila Mehr. The sessions included the basic fundamental skills of serving, passing, setting, and hitting. Players also learned player placement on the court, defensive skills and game strategy.
To mark the end of the community education program, the St. Cloud State University womenís volleyball team joined the kids and members of the Paynesville Bulldog volleyball team for a morning of playing volleyball and signing autographs for the girls.

---