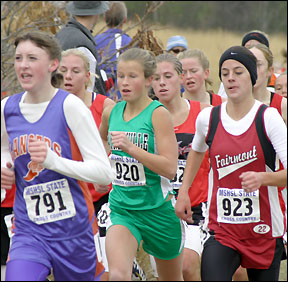 Ninth grader Kacy Nehowig earned All State honors for the second year in cross country, and teammate Tanis Beireis, also a ninth grader, just missed All State honors by a few seconds at the state cross country meet on Saturday.

Ninth grader Kacy Nehowig is the fourth female Paynesville runner to earn All State Honors twice.

The meet was held at St. Olaf College in Northfield. Both runners from Paynesville - the only two to qualify for state this year - ran in their third straight state meet.

Nehowig, the daughter of Deb and Kyle Nehowig, finished 18th overall in the Class A girls' race, the same finish as last year for her, despite running the four-kilometer course nearly a minute faster.

Nehowig was 18th in 2002 as an eighth grader in a time of 15:59. This year, in the cool weather, she was 18th in a time of 15:08, or 51 seconds faster than last year, but the course was too long in 2002. Nehowig matched her fastest time of the year at state this year.

(As a seventh grader, Nehowig helped the Paynesville girls take second as a team when she was their third runner in 52nd place.)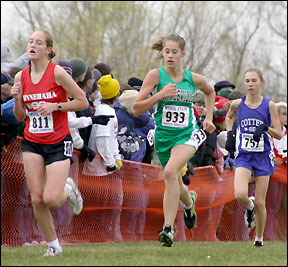 Nehowig said that she was less nervous at state this year and that she intentionally started slower in order to have more at the finish. She ran the first half of the race between 30th and 40th place and made her move in the woods over the last mile of the race.
While pleased that she earned All State honors again, she has set her goals higher and is glad she has three years left to compete in cross country.
Ninth grader Tanis Beireis races to the finish line ahead of a runner from Winona Cotter on Saturday. Beireis finished 33rd in the Class A girls' race, missing All State honors by eight places and eight seconds.
The Class A champion was ninth grader Nikki Swenson of LQPV/ Dawson-Boyd, whom Nehowig dueled at the NL-S Invite in September, with Swenson winning the race by four seconds.
Beth Tacl, a sophomore from St. Cloud Catheral, a conference rival of the Bulldogs, was the runner-up. Swenson covered the course in 14:27 to break the Class A record. Tacl finished in 14:33.
Tacl's teammate, Libby Zupanc, who Nehowig beat once this year, was ninth, and Jamie Tallberg of Pierz, whom Nehowig beat twice this year, was tenth.
St. Cloud Cathedral was second among Class A girls' teams, trailing only Staples-Motley, which won the Class A titles for boys and girls.
Beireis, the daughter of Jo and Larry Strate of Paynesville, was 33rd overall this year, missing All State honors by eight places.
Beireis improved her state performance from 2002 by 30 places, running the course 76 seconds faster this year (though the course was mistakenly too long in 2002).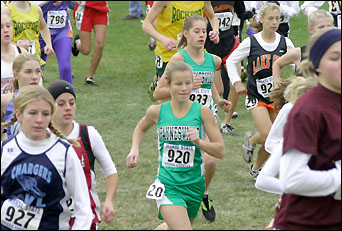 Kacy Nehowig and Tanis Beireis at the start of the state cross country meet.
She came into the homestretch at the back of a pack of 16 runners. She passed two runners in the last 100 meters of the race but fell eight places and eight seconds short of an All State finish.
Beireis said her goal was to earn All State honors and that she was slightly disappointed to have come so close, especially since she felt she could have gone faster. She tried to stay within sight of Nehowig during the race but thought she went too slow. "I got scared I'd die if I went out too fast," she explained.
Still, she had fun at state, she was excited to run there again, and she was pleased to beat her best time by 15 seconds. She also has three years of cross country left.
Coach Darrel Carstens was also pleased with the performance by Nehowig and Beireis. "It has been an honor to coach these two outstanding young ladies. They are positive, hardworking, determined leaders," said Carstens, who now has had female runners earn All State honors 12 times. "It was great to have Kacy repeat as an All State runner, and it was great having Tanis move up 30 places and be within eight seconds of All State."
Individual Results
1. Nikki Swenson - LQPV 14:28
2. Beth Tacl - Cathedral 14:33
3. M. Englemeier - Hermantown 14:35
4. C. Richardson - Blake 14:39
5. Liz Palkie - Carlton/Wrenshall 14:43
6. K. Chute - Blake 14:43
7. Leah Kahler - Martin County 14:44
8. Maggie Zirbes - Glencoe-SL 14:50
9. Libby Zupanc - Cathedral 14:53
10. Jamie Tallberg - Pierz 14:54
11. Lexi Heitkamp - Luverne 14:55
12. Jayna Tangen - Chatfield 15:02
13. Steph Jares - Staples-Motley 15:03
14. G. Anderson - Perham 15:06
15. Mollie Juntunen - Esko 15:06
16. H. Landecker - Staples-Motley 15:07
17. N. Landecker - Staples-Motley 15:08
18. Kacy Nehowig - Paynesville 15:08
19. Bria Wetsch - Holy Family 15:14
20. J. Klein - United South Central 15:15
21. Jamie Rooney - Fairmont 15:17
22. Heide Sande - Cook County 15:18
23. Katie Bono - Visitation 15:18
24. K. Stensland - Madelia-Truman 15:18
25. A. Joelson - Mt. Iron/Buhl 15:18
26. Deb Thompson - Park Rapids 15:21
27. Jenna Sorensen - Windom 15:21
28. Anna Glowacki - Mt. Iron/Buhl 15:22
29. N. Wenzel - Staples-Motley 15:22
30. B. Bryson - USC 15:24
31. Katie Stoks - Canby 15:24
32. A. Reichel - Staples-Motley 15:27
33. Tanis Beireis - Paynesville 15:27
34. J. McDougall - Minnehaha 15:28
35. Maureen Keane - Winona 15:30
47. Kayla Karnes - NL-S 15:41
67. Jennifer Becker - EV-W 15:54
97. Kendra Bengtson - Albany 16:23
(A total of 158 runners completed the Class A girls' cross country race.)
Paynesville Girls' All State
Five Paynesville female runners have earned All State honors in cross country 12 times, led by Jen Hess ('02) who was All State four times and Tina Lang ('94) who was All State three times. Ninth grader Kacy Nehowig has earned All State honors twice.

| | | |
| --- | --- | --- |
| Year | Runner | Place |
| 1990 | Tina Lang | 5th |
| 1991 | Tina Lang | 10th |
| 1993 | Tina Lang | 4th |
| 1994 | Amanda Lieser | 19th |
| 1998 | Jen Hess | 24th |
| 1999 | Jen Hess | 3rd |
| 2000 | Jen Hess | 1st |
| 2000 | Brooke Schmitz | 25th |
| 2001 | Jen Hess | 1st |
| 2001 | Brooke Schmitz | 17th |
| 2002 | Kacy Nehowig | 18th |
| 2003 | Kacy Nehowig | 18th |
---
Contact the author at editor@paynesvillepress.com • Return to Sports
Home | Marketplace | Community
---