Hess qualifies for state cross country meet
This article submitted by Erin Aagesen on 11/3/98.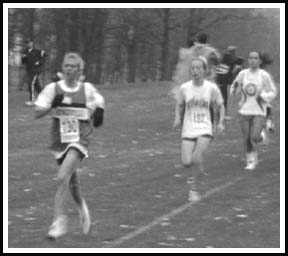 On Oct. 29, freshman Jen Hess qualified to compete in the state cross country meet on Saturday, Nov. 7, at St. Olaf.

She placed seventh overall with a phenomenal time of 15:35. As a team, the Bulldogs placed eighth to end their season.

The meet was held on the Perham Golf Course and took a few interesting turns due to inclimate weather. The Paynesville team was the only team to be without a tent, so the girls actually warmed up in a golf cart shed to stay dry.

Carin Frenchick placed 37th in 17:17. ďWe were all a little surprised we didnít place higher [in the meet],Ē she commented. ďI thought we all ran as hard as we could.Ē Danielle Lieser (26), agreed. ďI was a little confused about our placing, she added.

Tiff Rausch placed 40th individually. She had trouble deciding whether she liked the rain or not. Erin Aagesen (34) was just happy that she remembered to bring her shoes.

Mesa Frenchick dashed across the finish line in 52nd place, and senior Camille Flanders finished up her cross country career at PHS with a 38th place finish.

Pictured above is the entire PHS Cross Country teams, both boys and girls.

The girls had a very memorable season. Some highlights include; the five-mile relay practice, morning practices with doughnuts, 20-minute warm-up runs, swimming at Vanís, singing on the bus, the sleepover at the Country Inn, and asking Mr. Carstens about dinner arrangements.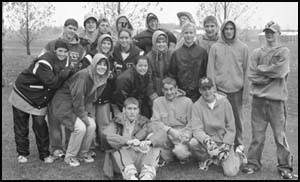 Individual results
7. Jen Hess - 15:35
26. Danielle Lieser - 16:59
34. Erin Aagesen - 17:11
37. Carin Frenchick - 17:17
38. Camille Flanders - 17:18
40. Tiff Rausch - 17:25
52. Mesa Frenchick - 18:12
Team results
1. Wadena- Deer Creek - 67
2. NLS - 88
3. Minnewaska - 88
4. Perham - 104
5. Pelican Rapids - 114
6. Holdingford - 127
7. Morris - 128
8. Paynesville - 132