Netters end season against ACGC
This article submitted by Courtney Karsch on 11/3/99.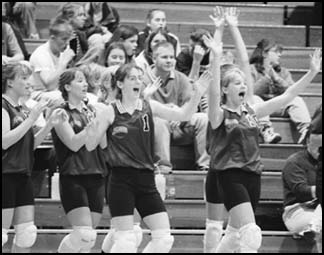 The second-seeded Bulldog volleyball team ended their season Thursday in a four-set loss to third-seeded ACGC.

Their match against ACGC was played at Sauk Centre. It took four games for the ACGC Falcons to defeat the Bulldogs. The Bulldogs won the first set, an intense battle 15-10, but unfortunately lost the next three.

The second game went predominantly in ACGC's favor as they won 15-5. The last two games of the match were very close, with the Bulldogs losing by two points in each.

The Bulldogs, who beat Osakis on Monday, Oct. 25, in their opening subsection game, put up a good fight against ACGC, but ended their season with a record of 9-8.

Heidi Jansen, Jenny Habben, Sara Lieser, and Cyndi Bollman celebrate a point during the Bulldogs' victory over Osakis on Monday, Oct. 25.

The Bulldogs had a very successful season and had a lot of fun as well. The Bulldogs are going to lose three seniors this year: Tanya Lieser, Courtney Karsch, and Carrie Hemmesch.

"It was good to end the season on a great note, being that we played well," said senior captain Tanya Lieser.

The team would like to thank their parents, fans, and the community for all their support. It really meant a lot.

Sauk Centre defeated ACGC 3-1 for the subsection title on Saturday night.
| | | | | | |
| --- | --- | --- | --- | --- | --- |
| ACGC-- | 10 | 15 | 15 | 15 | |
| Paynesville-- | 15 | 5 | 13 | 13 | |
Individual Results:
Hitting: Lieser 52/62-19A; Carrie Hemmesch 26/30-8A;
Serving: Steph Krupke 20/22-3A; Hemmesch 35/40-3A; Jenni Mayer 12/14-3A;
Setting: Krupke 87/87-13A;
Ace blocks: Lieser- 8; Krupke- 2.
---