Hess advances to state cross country meet
This article submitted by Erin Aagesen on 11/3/99.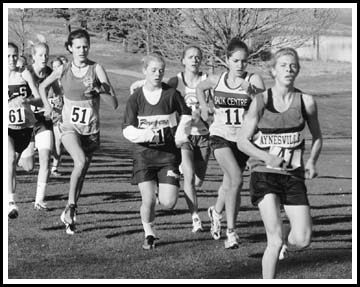 Jenny Hess won the Section 6A cross country meet in 14:47 to advance her to the state meet. She bettered second place finisher Katie Lorentz of Wadena-Deer Creek by 15 seconds on the rolling hills of the Little Crow Golf Course in Spicer. "I was very happy that I won," she said. "I was nervous before the race, but once it started I felt really good."

Hess will run at the Class A state meet at 2 p.m. on Saturday. The meet will be held on the St. Olaf College campus in Northfield.

For her winning the section title on Thursday, Hess will also be honored as Athlete of the Week on KSAX (Ch. 5) this week.

As a team, the girls placed sixth to end their season. Morris Area and Wadena-Deer Creek placed first and second in the subsection to qualify for the state meet as teams.

Danielle Lieser placed 31st, coming in with a time of 17:25. "This was a fun year," she said. "My best memories are morning practices this summer and running from the entire guys team at Sibley State Park while they tried to steal my food!"

In 37th place was Erin Aagesen, finishing in 17:43. Carin Frenchick placed 40th in 17:58, and Tiff Rausch placed 41st. She completed the course in 17:59. Aagesen, Frenchick, and Rausch(all pictured running, with Rausch in back)were seniors on this year's team.
Mesa Frenchick finished 46th, in 18:35. "I really liked doing stride-outs on the football field the day before meets. It was always interesting!" she said.
Mel Veldcamp placed 51st, in 20:34. "My favorite days were when we ran to the lake or the river," she said. "We could never find each other when we played tag!"
For the state meet on Saturday, Hess said her goals were "to place in the top five and run a good race."
Varsity team standings
1. Morris-Hancock - 52
2. Wadena-Deer Creek - 66
3. Sauk Centre - 81
4. Staples-Motley - 85
5. NLS - 86
6. Paynesville - 150
7. Minnewaska - 174
8. Crosby-Ironton - Inc.
---