Carstens receives section coaching award
This article submitted by Michael Jacobson on 11/3/99.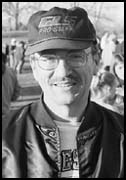 Darrel Carstens was selected as the Section 6A boys coach of the year last week. In his 26th year of coaching the Paynesville boys' cross country team, Carstens has won the award a half dozen times before and attributes the award to the team's success.

"If the kids do well, then you've got a shot," he explained. "Basically, it's an award for the kids. Coaches from other towns recognize your kids."

Carstens, who is assisted by Rick Houske, started coaching the boys team in 1974 and started the girls team in the late 1970s. He enjoys the camaraderie formed by running and the outdoor practices. For many years, he ran in practice with the high school athletes. "It's fun everyday," he said, of cross country.

Carstens played football and ran track in high school. He also ran track at Concordia College, which led him to run cross country his last two years.

Now he teaches German at the Paynesville Area High School. He plans to coach track and cross country until he retires. He has taken six teams to state and has coached eight All State runners.

He also has coached both girls' and boys' varsity basketball.

He is proud of the students who run on the cross country team, citing the boys' award as the top academic team in the section. The girls team actually had a higher academic per-centile and were second in the section.

"I'm sure in all sports the kids want to be there, but (for cross country) the kidsreally have to want to be there," he said.

"Anything we get for the program, they accomplish," he added.
---