Top-tier teams leave Bulldogs fourth in section
This article submitted by Ryan Flanders on 11/3/99.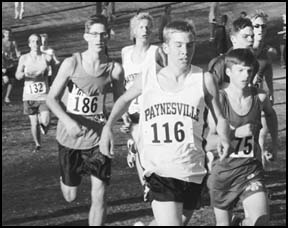 The Bulldogs' successful season came to a disappointing end last Thursday at the Section 6A cross country meet at the Little Crow Country Club near New London.

The Bulldogs, rated as high as fourth in the state and finishing the season rated sixth, placed fourth in their section behind Staples-Motley, Montevideo, and Crosby-Ironton. Only the top two teams will advance to state competition.

The Bulldogs failed to advance to state largely because of the caliber of their competitors. Staples-Motley has won the state championship the past two years and is favored again this year. Montevideo placed sixth at state last year and returned their varsity lineup.

Montevideo and Crosby-Ironton were moved into Section 6A this year, prompting Gerry Wohlhuter, a Montevideo co-coach, to tell the West Central Tribune: "This already was a strong section with teams like Morris, Staples, and Paynesville; then they load it up with us and Crosby Ironton. It's too much power (in one section)."

The Section 6A meet featured the top three finishers in Class A at last year's state meet.

Clayton Lang ran an excellent race for the Bulldogs and surely would have finished in the top seven in many of the neighboring sections. Even with a time of 16:59, he finished in 11th place Thursday. Fortunately, Lang is a junior, along with the majority of his teammates, and will be back next season.

Adam Utsch never strayed from his consistency throughout the season. Adam was Paynesville's second runner and finished in 15th place with a time of 17:11.

Paynesville's third runner was senior Luc Trees. He performed well Thursday, placing 19th in 17:31. His absence will certainly be felt next season.

In the Bulldogs' fourth spot was Riley Flanders. Although this was his first year on the varsity squad, he ran like a seasoned veteran, typically filling the team's fourth or fifth position. Riley finished at the front of Paynesville's second pack, in 31st place.

The fifth runner for the team was Dan Pearson, who finished 32nd. Dan experienced not only his first season on varsity, but his first season in cross country altogether. He put his talent to use with a good solid effort every race, and made himself an important figure on the team. Dan commented, "I don't regret coming out for cross country for one minute."

And neither do his teammates, for that matter.

In 33rd place was Eric Korman(pictured). He has been a hard working competitor throughout the season, and also one of the main social presences on the team.

Ryan Flanders was the team's seventh runner, finishing in 38th. He was the only team member to have an off day.

Though the Bulldogs as a team didn't slip from their usual performance level, their competition stepped it up a notch. "They ran faster than we did," said Korman, in summarizing the day's events.

Coach Darrel Carstens said this about the season, "We had higher hopes and it was disappointing to see the season come to an end, but it was a great season and we accomplished many great things. We have a fine group of young athletes and we're proud of their winning the Section Academic Award. We're hoping to build on this season's success and come back next year even stronger."

The team is happy to have such a fun, knowledgeable, experienced coach, and he was recognized with the Coach of the Year award for Section 6A.

Varsity team standings
1. Staples-Motley - 35
2. Montevideo - 89
3. Crosby-Ironton - 96
4. Paynesville - 106
5. Morris Area - 108
6. Wadena-Deer Creek -143
7. New London-Spicer - 164
8. LPGE - 166.
---