The Albany Huskies won a close rematch with the Dogs volleyball team in the first round of the subsection playoffs, winning the rubber match between the two teams and ending the Dogs' season.

Albany, seeded third in the subsection, swept the playoff match, but the Bulldogs, seeded sixth, narrowly lost the first and third games. Albany won the first set 26-24, the second set 25-18, and the third set 25-23 at home on Thursday.

Coach Dawn Knoll said the Dogs fought hard in the playoff loss. "There were many spots within the match when the balance of the games went back and forth. The girls played with heart and were very close to pulling off the upset."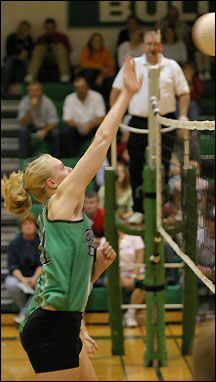 The Dogs shifted their lineup some due to illnesses during the week, added Knoll but everyone stepped it up and did their best to extend the Dogs' season.
Junior Shonda Martinson led the Dogs' net attack against Albany last week with 12 kills in a three-set subsection loss.
"In such a close match, nine service errors by the Bulldogs did not help our cause. Our offensive and defensive play were very good. Rally score forces the team to be fundamentally strong in all areas," said Knoll.
The Dogs had 28 kills in three games, led by junior Shonda Martinson, who had 12 kills. Senior Rachael Wendlandt added six kills and three blocks.
The Dogs had defeated Albany in four sets at home in September, their first victory against the Huskies since 1999. But Albany swept the Dogs in early October in a conference match and again last week in a playoff match.
Albany advanced in Subsection 17AA to face second-seeded Melrose.
The Dogs ended their season with a record of 9-14, matching their victory total from 2003, when they went 9-12. Nine wins is the most for the Dogs since 2001, when they went 10-11. Prior to that, the Dogs went 12-9 in 1998.
The Dogs were 3-7 in the West Central Conference North this year.
| | | | | | |
| --- | --- | --- | --- | --- | --- |
| Paynesville-- | 24 | 18 | 23 | | |
| Albany-- | 26 | 25 | 25 | | |
Individual Statistics
Hitting: Shonda Martinson 17/18 - 12A; Rachael Wendlandt 25/29 - 6A; Lynn Lieser 18/19 - 4A; Brittany Lieser 13/17 - 4A; Amanda Skalicky 6/7 - 1A; Val Callenius 2/3 - 1A; Team 83/96 - 28a;
Serving: Wendlandt 10/10 - 2A; Kendra Johnson 9/9; Brittany Lieser 11/13; Lynn Lieser 11/14; Ashley Lieser 8/10; Team 57/66 - 4a;
Blocks: Wendlandt 3A; Katie Nelson 2A; Lynn Lieser 2A; Martinson 1A;
Assists: Johnson 41/42 - 10A; Ashley Lieser 27/30 - 13A; Skalicky 7/7; Team 79/83 - 25A; Digs: Brittany Lieser 10/14; Johnson 9/11; Lynn Lieser 8/8; Team 55/65.
---
Contact the author at editor@paynesvillepress.com • Return to Sports
Home | Marketplace | Community
---